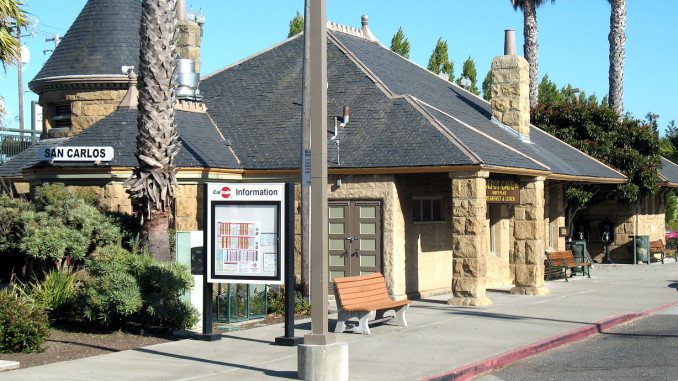 BY ALLISON LEVITSKY
Daily Post Staff Writer
A man has been arrested for allegedly stealing a teenage boy's cellphone, ripping the windshield wipers off a car and swinging a traffic barricade at San Mateo County sheriff's deputies near the San Carlos Caltrain station, prosecutors said yesterday (Oct. 25).
Around 7:45 p.m. Monday, Michael Anthony St. John, 31, of Salinas, allegedly approached a 14-year-old boy waiting for his mother at the train station at 1250 San Carlos Ave., at El Camino Real, and said nonsensical things, following the teen as he moved away from him.
St. John is said to have asked the boy, "Why aren't you giving me your phone number?" and grabbed at the teen's cellphone while he was calling his mother.
A witness came to the teen's aid but St. John allegedly pushed him away, snatching the cellphone out of the boy's hand, punching him in the jaw and kicking him in the ribs.
The teen's mother arrived and he ran to her car. The boy wasn't seriously injured.
District Attorney Steve Wagstaffe said that St. John then walked to El Camino Real and broke the windshield of a car and ripped its windshield wipers off.
When deputies arrived and tried to arrest St. John, he allegedly grabbed a nearby barricade and swung it at them, missing them.
A deputy used a Taser to subdue St. John and arrested him. St. John was found to have the teen's cellphone.
St. John is being held on $50,000 bail. He pleaded innocent on Tuesday to charges of robbery, vandalism and threatening a police officer. The preliminary hearing in the case was set for Nov. 6.
The charges could result in a maximum sentence of six years, eight months in prison if he's convicted, Wagstaffe said.