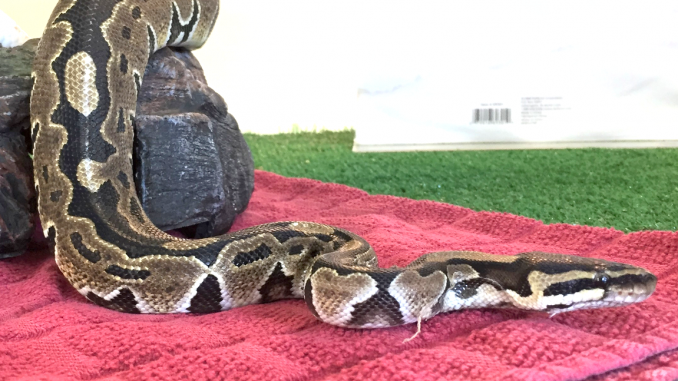 By Bay City News.
Passengers on a VTA bus in Menlo Park discovered an abandoned python on a seat, an animal welfare official said yesterday.
The snake, which has been named "Rumplesnakeskin," is now up for adoption.
Ball pythons can be ideal pets because they only grow to about 2 to 3 feet long and they are friendly, said Buffy Tarbox, spokeswoman for the Peninsula Humane Society & the Society for the Prevention of Cruelty to Animals.
"He's super friendly," Tarbox said. "Hopefully he's done with his journeys on buses."
When passengers found the snake on Sept. 27, the bus driver pulled over at a bus stop at Encinal Avenue and El Camino Real in Menlo Park and the snake was taken off the bus and taken to Palo Alto Animal Services by an animal control officer.
After nine days at Palo Alto Animal Services, Rumplesnakeskin was taken to the humane society in Burlingame because no one claimed him and humane society staff are more able to care for him.
Experts at the humane society believe the snake is male.
Tarbox said the fee to adopt Rumplesnakeskin is $35.
PHS/SPCA staff will help potential adopters understand what care Rumplesnakeskin will need. Ball pythons can live to be 30 years old.
Anyone interested in adopting the snake can go to the humane society's Center for Compassion at 1450 Rollins Road in Burlingame.
The center is open Monday to Friday 11 a.m. to 7 p.m. and on the weekends from 11 a.m. to 6 p.m.