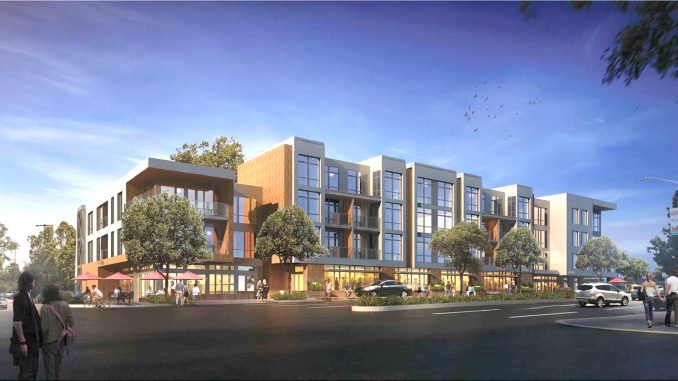 This development will replace the former Nissan dealership that recently housed Mike's Bikes on El Camino Real in Palo Alto. Illustration by Steinberg Architects. (This caption has been corrected to reflect the fact that Mike's Bikes no longer is located at this location.)
BY ALLISON LEVITSKY
Daily Post Staff Writer
City Council tonight (Oct. 23) approved 50 new apartments for housing-starved Palo Alto, with eight votes in support of the project at 3001 El Camino Real and one abstention.
The Sobrato Organization project at the Ventura neighborhood site, where Mike's Bikes was recently located, will include 19,800 square feet of retail space, 24 studio apartments, 10 one-bedrooms, six two-bedrooms and one three-bedroom loft on the corner of El Camino Real and Acacia Avenue.
"We speak constantly about the need for housing, and this is in a particular part of town that I think can use this kind of housing very well," Vice Mayor Liz Kniss said. "We haven't voted on something like this for quite some time."
During a council discussion about rent control on Oct. 16, it was widely acknowledged that the city had only built 44 apartments in the last three years.
None of the apartments at 3001 El Camino Real will be priced below market rate because, as rental units, they aren't subject to the city's affordable housing ordinance. The project was submitted to the city at a time when the below-market rate requirement wasn't in effect.
Tim Steele, senior vice president of real estate development for Sobrato, said that nonetheless, they had tried to keep the units affordable by making them small. The studios will be about 550 square feet, the one-bedrooms 718 to 750 square feet, the two-bedrooms between about 980 and 1,104 square feet and the three-bedroom 1,495 square feet.
Councilman Adrian Fine was absent from the meeting, but participated via speakerphone, apparently not realizing that his phone wasn't muted when he sighed, "It's in the packet," after Councilwoman Lydia Kou asked a question about the configuration of the apartments.
The apparent show of exasperation came after, at the beginning of the meeting, a resident had voiced concerns about a recent lack of civility on council.
Kou, along with council members Karen Holman and Tom DuBois, had been the lone supporters of a motion to study rent control and just cause eviction protections last week. The same day, Fine submitted a draft of a memo, co-signed by Kniss and Councilman Cory Wolbach, favoring changes to zoning codes that prevent housing from being built.
The project will also add a crosswalk with a red-light to stop traffic at the intersection of El Camino Real and Olive Avenue.
Holman, who abstained, voiced support for building 50 apartments and for architect Rob Steinberg's design work in general, but took issue with the "monotony" of similar-looking retail entrances on the block-long building.
"You need some rest spots for the eye to relax between special events," Steinberg said, explaining that he focused most of the building's interesting features on the corners, where pedestrians come from.
"I'm just not fully behind this design," Holman said. "I don't want you to get push-back when this is built."