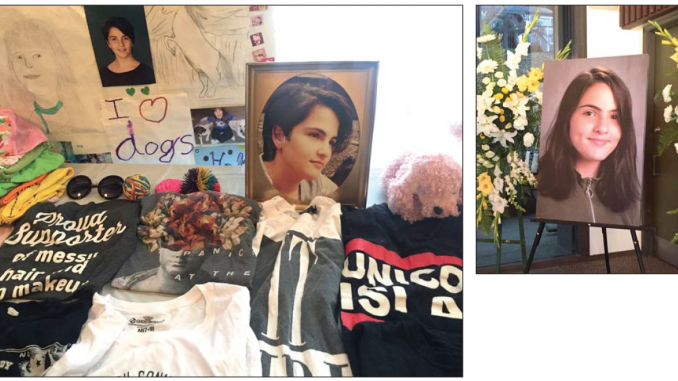 Above, Holly Spalletta's photo is displayed at a memorial Saturday at Peninsula Covenant Church in Redwood City. At left, some of her belongings were displayed. Post photos by Emily Mibach.
BY EMILY MIBACH
Daily Post Staff Writer
The father of a Sequoia High School student who committed suicide has a message for teens who think their loved ones' lives will go on as normal if they die: they won't.
A note from 14-year-old Holly Spalletta told her mother, Julie Spalletta, to "act like nothing happened," after Holly's death on Sept. 26 in Redwood City, said Holly's father Phillip.
"But there's no way that can happen," said Phillip Spalletta. "I want kids to know that what they leave behind isn't glorious."
Phillip Spalletta said he noticed an approximately eight-month-long change where Holly seemed "darker," but she did not want to talk about what may have been troubling her.
Spalletta said he later learned that the school counselor had seen Holly, but the Spallettas were never notified that Holly needed further help or wanted to hurt herself.
"If she did talk to someone, they didn't say anything (to us)," Phillip Spalletta said.
Holly loved math, and kept a notebook with her calculations and notes, Spalletta said. But there are a series of blank pages from about three months ago, and once the calculations picked back up again in the notebook, the pages were often littered with drawings, which was a little surprising.
Drawing may have foreshadowed death
While Spalletta described Holly as an "artist," who drew, sang in the choir, a drawing found suggests Holly was thinking of suicide. In the drawing, a person is rising while embraced by waves of red, yellow, blue and green. Spalletta said it appears that the drawing was done about a week before Holly's death.
In addition to math, choir and drawing, Holly volunteered at the SPCA, where she worked with rabbits. She also was in the 4H Club, and was training to be a camp counselor for next summer.
The Spallettas are members of the Peninsula Covenant Church on Farm Hill Boulevard in Redwood City, where a memorial was held Saturday for Holly. At the memorial Student and Family Pastor Danny Bowers said that those who need to talk about the loss of Holly are welcome to speak with him.
Friends, family asked to stay in touch
Pastor Tony Gapastione suggested that friends and family write down a monthly reminder to reach out to the Spallettas during the following months, saying that while others' lives move on, it's important to check in with the family, who will still be grieving.
Following Holly's death, Sequoia Union High School District Superintendent Mary Streshly sent an announcement to Sequoia families and employees about the death, and noted that grief counselors, mental health therapists and psychologists have and will be available to students and teachers on Sequoia's campus, "to ensure that any student needing to talk to someone can readily do so."
Help is available
Anyone in crisis can get help from the Santa Clara County Suicide & Crisis Hotline at (855) 278-4204. Help is also available via Crisis Text Line (text HOME to 741741) or the National Suicide Prevention Lifeline at (800) 273-8255. All three services are free, confidential and available 24/7.