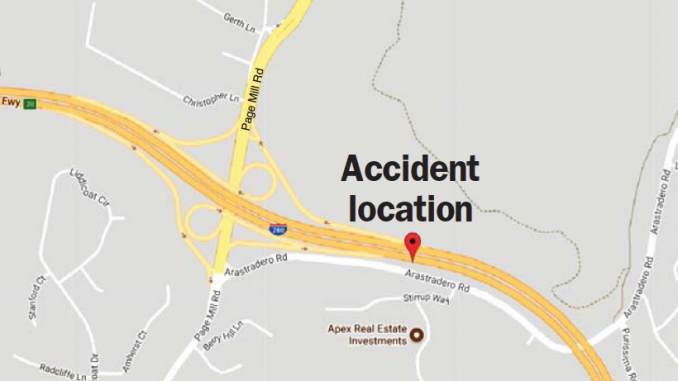 By the Bay City News Service and the Daily Post
Two men have been hospitalized with major injuries in the wake of a collision on Interstate 280 in Los Altos Hills Sunday morning that may have involved alcohol, the California Highway Patrol said.
The CHP started getting calls about a wrong-way driver on I-280 near Page Mill Road at 3:42 a.m., according to CHP Officer Art Montiel.
A white Toyota Corolla allegedly driven by Edwin Rodriguez, 25, of Morgan Hill, was traveling southbound in the northbound lanes of Interstate 680 at Berryessa Road, Montiel said.
Rodriguez continued traveling the wrong way as I-680 turned into I-280, according to Montiel. At this point, Rodriguez was driving northbound in the southbound lanes of I-280, Montiel said.
San Jose CHP units responded and as Rodriguez was entering Redwood City CHP's area, officers set up spike strips at Sand Hill Road in an attempt to stop him, Montiel said.
Before reaching the strips, Rodriguez collided with a Ford van driven by David Martin, 50, of San Jose, according to Montiel. Rodriguez's Toyota came to rest on the shoulder of I-280 southbound and the Ford stopped in the lane next to the passing lane.
The two men were taken to Stanford Hospital with major injuries, Montiel said.