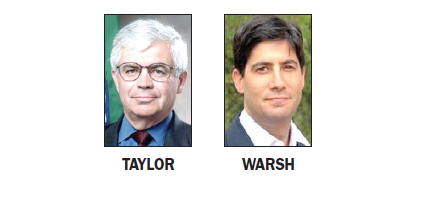 Two members of Stanford's faculty are on President Trump's short list for the next Federal Reserve chairman.
Professor John Taylor met with Trump, Vice President Mike Pence, Treasury Secretary Steve Mnuchin and other White House officials on Wednesday, the Wall Street Journal reports.
The short list also includes Stanford visiting economics fellow Kevin Warsh, who is a former governor on the Fed's board. The two other candidates are Fed governor Jerome Powell and Fed chairwoman Janet Yellen of San Francisco, whose term expires in February.
Warsh, in addition to serving as a visiting fellow at Stanford's Hoover Institution, is a lecturer at Stanford's Graduate School of Business. He advises several private and public companies and serves on the UPS board.
He served on the Fed's Board of Governors from 2006 to 2011. Prior to that, he was a special assistant to President George W. Bush for economic policy and was executive secretary of the White House National Economic Council.
Earlier in his career he was in the mergers and acquisitions department at Morgan Stanley, serving as vice president and executive director.
Taylor was a member of the President's Council of Economic Advisers under George H.W. Bush.
From 2001 to 2005, he was under secretary of treasury for International Affairs, where he coordinated policy with other G-7 countries. He is currently director of the Stanford Introductory Economics Center.
At a panel discussion hosted by the Federal Reserve Bank of Boston, Taylor said the central bank fueled the financial crisis of 2009 by keeping interest rates too low.
He is best known for creating the "Taylor Rule," a mathematical formula for setting rates based on variables, such as inflation and labor-market conditions.
Taylor said that legislation pushed by House Republicans to require the Fed to follow a formal rule would help avoid a repeat of the policy mistakes that led to the 2009 financial crisis. Yellen and other Fed officials oppose the bill, saying it would limit their flexibility.