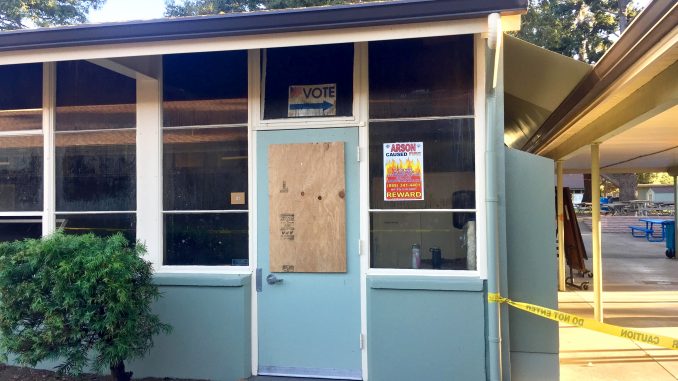 Above, the exterior of the classroom that was damaged by the fire at Egan Junior High School. Post photo by Allison Levitsky.
BY ALLISON LEVITSKY
Daily Post Staff Writer
Federal arson investigators have launched a probe at Egan Junior High School in Los Altos after a fire set in a locker destroyed a history classroom, authorities said.
Two investigators from the Bureau of Arson, Tobacco, Firearms and Explosives (ATF) joined Santa Clara County fire investigators in their inquiry into the fire, which was first reported when someone noticed smoke around 7:43 a.m. Sunday (Oct. 1).
Two posters advertising an anonymous hotline at (888) 341-4401, and a $10,000 reward for information about the cause of the fire, were posted outside the classroom.
County firefighters responding to the school at 100 W. Portola Ave., off of North San Antonio Road, found that the fire had gone through the wall from a locker and was burning the wall and ceiling.
Seven engine crews, including one from the Mountain View Fire Department, confined the blaze to Classroom 21, which sustained smoke and water damage throughout. Yesterday, the strong odor of burnt material was still apparent outside the classroom.
Smaller fires earlier
It's unclear who started the fire. Los Altos police Sgt. Ryan Burke noted that two or three trash fires had been set at Egan in the past, and that the items that were burned in the locker looked like schoolbooks, though Egan Principal Keith Rocha said he thought it was trash.
"It's hard to get into someone's mind and to understand what their thoughts are," Rocha said. "It definitely wasn't something we wanted to walk into."
The classes that meet in Room 21 were moved across the hallway into a flex room that other classes shared, Rocha said. The electricity was still shut down in the whole wing as of yesterday, so two physical education teachers who taught health classes in that wing have temporarily moved out to make room for history classes.
On Monday morning, the school held an assembly to inform students and employees of the fire over the weekend. Rocha said firefighters joined the assembly to remind students not to play with fire.
"It brought our community together," Rocha said, adding that he's gotten supportive phone calls from parents and local businesses. "Everybody's 100% on board to help."