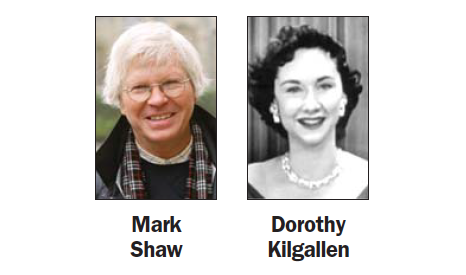 BY EMILY MIBACH
Daily Post Staff Writer
Burlingame author Mark Shaw said yesterday (Sept. 4) he is going to push ahead with his effort to have authorities declare the 1965 death of newspaper columnist Dorothy Kilgallen a murder even though New York City's top prosecutor has just closed the cold case.
Shaw's book, "The Reporter Who Knew Too Much," led New York City District Attorney Cyrus Vance Jr. in January to reopen the investigation of her death and who may have been behind it.
Shaw has collected evidence that indicates the Mafia had Kilgallen murdered and staged her death as an accident. He said the Mafia wanted her dead because she was planning to write that the mob had President Kennedy assassinated. Shaw has identified an Ohio man as the murderer.
Shaw said yesterday he thinks the Manhattan DA was not thorough enough in its investigation and plans to send a letter to New York state Attorney General Eric Schneiderman urging his office to look into Kilgallen's death.
Kilgallen, a nationally syndicated newspaper columnist and a panelist on the show "What's My Line?," was found dead in a bed in her five-story New York City townhouse. The medical examiner initially ruled her death an accident due to the amount of sleeping pills and alcohol in her system.
On Saturday (Sept. 2), the New York Post reported that after a "thorough, eight-month-long investigation," the DA's office could not conclude that it was a homicide.
During the eight month investigation, Shaw said he gave DA investigator Detective Richard Ramos and the DA's office "everything but the kitchen sink" in order to prove that Kilgallen was murdered. Shaw gave them witness contact information and a 22-page document laying out his theory, all based on interviews he did for his book.
"I didn't care if they solved it or not. If they had been thorough … they would have said she had been silenced and killed," Shaw said.
Shaw said that while he sent the DA investigation contact information for many witnesses, only one of them had been contacted, causing Shaw to believe the investigation was not thorough.
Shaw said if the New York Attorney General does not take up the case, he will go to the governor's office and the U.S. Justice Department if necessary.
"Three times now Dorothy Kilgallen, a true patriot who was killed for pursuing the truth regarding the JFK assassination, has been denied justice," Shaw wrote in an email to the Post.
"This has been an affront to Dorothy and all victims. They all deserve a fair shake," Shaw said.