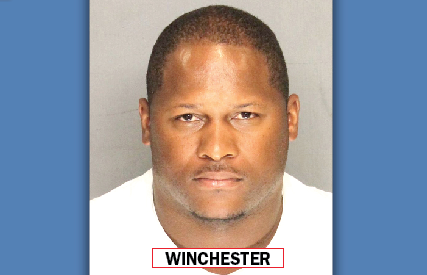 BY EMILY MIBACH
Daily Post Staff Writer
Former San Mateo police officer Noah Winchester's legal team is trying to discredit the testimony of one of his alleged victims by saying she may have consented to intercourse with the ex-cop, according to court documents.
Winchester's attorney, Michael Rains, argues in those documents that one of Winchester's alleged victims consented and even offered to get a condom out of her car. Rains is also trying to get charges regarding another one of Winchester's five victims thrown out.
Winchester is charged with 22 felonies for raping five women while he was on duty. Two of the attacks occurred in 2013 when he was a police officer for the Los Rios Community College District in Sacramento and three more occurred in 2015 when he was with San Mateo police, according to prosecutors.
Coyote Point attack
Winchester's lawyer is attempting to discredit the testimony of a woman who said she was raped and kidnapped on Oct. 19-20, 2015, at Coyote Point in San Mateo. He faces one charge of kidnapping and two charges of rape by threat to arrest stemming from that incident.



Winchester had encountered the woman earlier in the night. She had been at a party he had broken up. He found her later sleeping in her car at a near hotel, according to the documents. Winchester allegedly told the woman that she had choices as what she could do, and she opted to get a room at the hotel, according to both the defense and prosecution's filings.
The woman attempted to get a room, but was turned away for not having cash. Winchester told her he would take her to an ATM, but the woman said she would prefer to drive herself, according to the court filings.
'Choices'
The woman followed Winchester in her car, leading her to Coyote Point, where he then asked her if she wanted to go to jail. She replied no, and again Winchester told her she had "choices."
According to Rains' filing, Winchester never told her what her choices were, but assured her they would not be sexual and that the woman assumed they were sexual.
She then offered to have sex with Winchester and, according to Rains, she "never protested about what they were doing."
Rains wants for Judge Mark Forcum to drop all three counts regarding this woman, claiming she consented to the sex and willingly followed Winchester to Coyote Point.
Deputy District Attorney Alpana Samant said in her rebuttal that the woman had been upset before Winchester led her to Coyote Point.



Samant also said that Winchester did not call in his time with the woman to his dispatcher, despite that being police protocol.
"She told Sgt. Shepley that the reason she had followed (Winchester) to Coyote Point in her car is because he had let her off on several things, so why would she say 'no' and because she felt there would be consequences if she refused," Samant wrote.
The second woman whose testimony Rains wants thrown out is another San Mateo resident who Winchester had contacted at the Avalon Motel in San Mateo on Sept. 22, 2015.
The woman was driving in a car with a male friend. Winchester had them stop the car.
He had the woman get out of the car and stand by the motel room she had just checked into, and her friend left, according to Rains.
Hotel room incident
Winchester had her walk into the room ahead of him, where he then felt her up over her clothes. He told her to take off her clothes and to bend over. The woman started crying then, and Winchester told her to get dressed and left and never touched her again, according to Rains.
Winchester is charged with burglary and attempted rape by threat to arrest stemming from the Sept. 22, 2015 incident.
Rains argues that Winchester did not intend to rape her, nor is he eligible to be charged with burglary as she had not been in the room before entering with him.
Groping alleged
Samant said that the woman argued with Winchester over taking her clothes off, but Winchester asked her if she wanted to go to jail, as she was on probation, and she complied.



"After arguing with her and reminding her that she was on probation and could be taken to jail, she undressed and he told her to bend over. The legitimate inference from the evidence where he is asking her to bend over unclothed on a bed after having groped her is that he intended to rape her," Samant argues.
Winchester is in jail on $3.1 million bail, and will be in court on Sept. 14 when Judge Forcum hears arguments for dismissing the charges involving the two women.
Winchester was suspended after the allegations about him came out in October 2015, and resigned in February 2016.