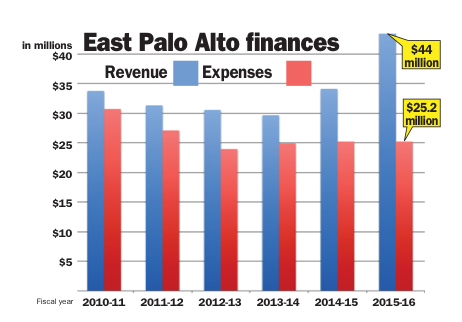 BY JEN NOWELL
Daily Post Staff Writer
The city of East Palo Alto is buying $5 million in water from Mountain View in hopes of end- ing its moratorium on new development, and it will be able to draw from its hefty surplus of $18.8 million.
For the fiscal year ending June 30, East Palo Alto brought in just over $44 million in total revenues — an increase of $9.9 million over the previous year — while expenses totaled $25.2 million.
This number comes from the city's comprehensive annual financial report, or CAFR, which provides an in-depth look at a city's finances for the previous fiscal year, which runs July 1 to June 30.
"We're doing better," said Finance Director Brenda Olwin.
"It's all good news." The reason for the increase inrevenues was a jump in building permits sold, more money from services provided by the city, a number of one-time payments to the city like fees from devel- opers, and growth in sales and property tax revenues.
For the previous fiscal year ending June 30, 2015, the city had a surplus of $9.5 million.
But the most recent fiscal year, the one that ended on June 30, 2016, was one of the best ever, Olwin said. In the 1990s and 2000s, the city had many tough years with meager surpluses.
Another factor behind the the surplus, in addition to the revenue increase, was that the city was able to keep its expenses down. Olwin pointed out that the city has a lower ratio of employees per capita com- pared to surrounding cities. As for hiring more employees, she said, "we really just can't afford it."
The city's total expenditures were $2.3 million less than what was budgeted, primarily because of employee vacancies and turnover, according to the CAFR.
'Water is the new gold'
The surplus may help East Palo Alto as it reaches out to other cities for help with its water shortage.
"I think we all agree that we have been dealt a bad hand. … Water is the new gold," said East Palo Alto Mayor Larry Moody at Mountain View City Council's Tuesday (May 23) meeting.
Mountain View council voted Tuesday to transfer one million gallons per day of the city's water allocation to East Palo Alto, which has banned new devel- opment due to its own water shortage. In exchange, East Palo Alto will make a one-time payment to Mountain View of $5 million.
Downtown development
Moody told Mountain View council members that he hopes his city won't just remain a pass-through community, but will become a community that offers opportunities, including the possibility of developing a downtown area with entertainment and restaurants.
Developments such as the office project at 2020 Bay Road, the low-income housing project planned for 965 Weeks St., and Mark Zuckerberg's and Priscilla Chan's plans for a private school have all been put on hold as a result of the city's moratorium on new development.
A smaller water allocation
Both East Palo Alto and Mountain View receive water from the San Francisco Public Utilities Commission's Hetch Hetchy water system, but East Palo Alto has a far smaller allocation than its neighboring cities.
East Palo Alto, with a population of 30,545, receives 1.963 million gallons of water each day. By comparison, Mountain View, with a population of 78,000, gets 13.46 million gallons per day, according to Mountain View's Public Works Department.
In 1984, the SFPUC agreed to allocate 184 million gallons of water per day to its 26 wholesale customers, and in 1994, the cities determined how the water would be allocated among them.
But in 1984, East Palo Alto had just been incorporated, and the water allocation the city receives today is far lower than its needs and historic usage.
While East Palo Alto receives all of its water from the SFPUC, Mountain View only gets 85% of its water from the agency, with an additional 10% coming from the Santa Clara Valley Water District and the rest coming from local groundwater.
Mountain View's agreement with the SFPUC requires the city to make a minimum purchase of 8.93 million gallons of water per day or pay a penalty for unused water, according to city officials. The city has paid this penalty twice in the past 10 years.
The city is facing an estimated charge of $8.5 mil- lion over the next four years to comply with the contractually required minimum water purchase, accord- ing to city officials.
"I think we have an excellent win-win solution here," said Mountain View Vice Mayor Lenny Siegel at Tuesday's meeting.
Councilman John McAlister was the one dissent- ing vote Tuesday, saying he's unsure of what this could mean for Mountain View and its residents in the longterm.
The transfer to East Palo Alto becomes effective once the SFPUC approves it, and East Palo Alto pays the city $5 million, a figure that was negotiated be- tween the two cities.
Palo Alto might help too
In December, Palo Alto City Council supported transferring or selling a portion of the city's water allocation to East Palo Alto, with former Mayor Pat Burt saying it's one way to address a number of "un- fair and unjust" actions that have occurred over sev- eral decades. Council didn't take any formal action, but voted to have one of its subcommittees discuss the options.