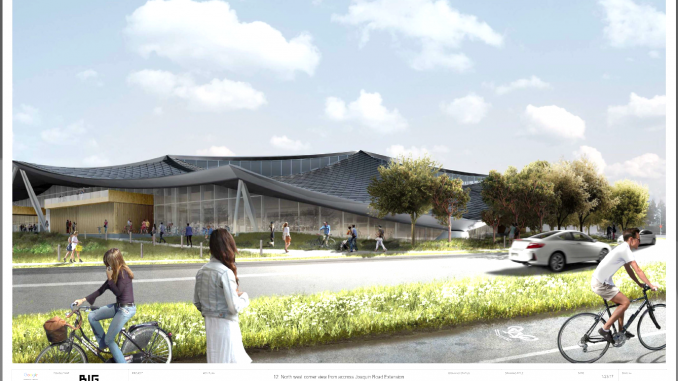 Google's proposed headquarters on N. Shoreline Boulevard in Mountain View. Illustration by Heatherwick Studio.
BY JEN NOWELL
Daily Post Staff Writer
Google has won approval from the Mountain View City Council for its futuristic office building east of Highway 101 with a unique canopy roof structure.
"This is a project that other cities would die for, including Cupertino," Vice Mayor Lenny Siegel said at Tuesday's council meeting, alluding to Apple's $5 billion "Spaceship" headquarters under construction at Wolfe Road and I-280.
The Google project at 2000 N. Shoreline Blvd., known as Charleston East, includes a 595,000-square-foot, two-story building on a 18.68-acre site.
Under Google's plans, the entire building area would be encompassed beneath a canopy roof structure made up of separate roof panels and held up by a grid of poles, letting natural light into the offices.
The highest portion of the canopy structure is 111 feet tall, and the top of the tallest second floor eave is 48 feet tall.
The first floor will include offices, cafes and shops which would line a pedestrian pathway cutting through the center of the building. The second floor would be entirely office space.
A public plaza
A plaza area that would be open to the public will be located at the corner at Shoreline Boulevard and Charleston Road. The plaza will have a dining area.
Ruth Porat, CFO at Google's parent company Alphabet, said it is an intentional design that invites the community in.
Council voted 6-0, with Mayor Ken Rosenberg recused, to approve the project.
Councilwoman Pat Showalter referred to the design as "amazing," "imaginative" and "creative."
It combines the need for an iconic office space with a building that fits into the surrounding environment, she said.
For parking, Google will use 1,200 parking spaces in the Shoreline Amphitheater parking lots across Amphitheater Parkway as temporary parking. This is approximately a half-mile from the building.
Last year, council agreed to this plan, but it wanted Google to pay for its temporary parking. The tech company will pay an annual rent of $2.25 million for the two lots, Lots C and D, to begin when Charleston East opens or on Jan. 1, 2021, whichever happens first. Google will also make a one-time payment to the city for $600,000.
The city owns the Shoreline Amphitheater property, including the parking lots, and is leasing it to Live Nation until 2025. Google has a sublease with Live Nation to use the lots.
Parking plan
Longterm, Google plans to use its Landings site at 2171 Landings Drive for parking. The only problem is the Landings parking facility near Charleston Road and Landings Drive hasn't been built. But Google plans to open it before 2025.
If Google still needs to use the city's lots beyond Dec. 31, 2025, there would be a $10,000 per day penalty fee, which would increase to $25,000 per day after June 30, 2026.
With the parking located across the street, architect Michelle Kaufmann, who is working with Google, said it will provide parking for those who need it, but the best way to access the site is by bus, foot or bike — not by car.
Councilwoman Margaret Abe-Koga said she initially had concerns about the plans for parking, but she said this approach is worth trying and learning from.