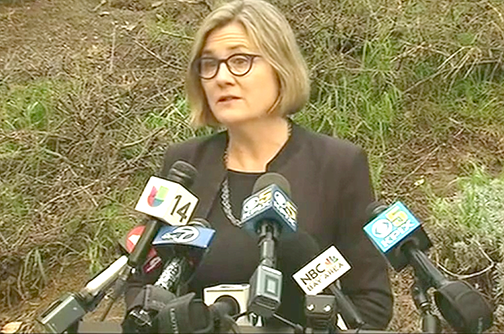 All but one of the Bay Area's 11 counties will lift their indoor mask mandates next week, aligning them with the state's plans to lift its mask requirements.
The one exception is Santa Clara County.
That means masks will continue to be required in Palo Alto, but on the north side of San Francisquito Creek in East Palo Alto and Menlo Park, no masks are necessary.
Masks will still be required in all counties indoors for unvaccinated people ages 2 and up, as well as in health care facilities, homeless shelters and on public transit.
Masks are also required in K-12 schools, but state officials have indicated they are reconsidering school masking requirements and could make changes in the coming weeks.
State public health officials said Monday that the statewide mask mandate, which has been in effect since Dec. 15, would expire as the state's Covid-19 case and hospitalization numbers have plummeted from the surge of the mild Omicron variant.
Officials in the 10 counties argued that Covid's spread has also waned significantly across the region and that ending the mask mandate on Feb. 16 is part of a shift toward a "new normal" of living with the virus rather than attempting to snuff out its spread completely.
But in Santa Clara County, Health Officer Dr. Sara Cody said that arguing lifting local indoor mask requirements would present an unnecessary risk to residents who are vulnerable to the virus.
She said she expects to lift most indoor mask requirements for vaccinated residents "in a matter of weeks," once the county's seven-day average of new cases per day falls below 500 for at least one week.
Cody said the mask requirement will only be lifted if she deems hospitalizations in the county to be "low and stable."
"Universal indoor masking is critical to protect our community, especially community members who are older or immunocompromised," Cody said in a statement. "Continuing to mask indoors should also allow our case rates to continue to drop quickly."
As of Tuesday, the county was confirming an average of 1,922 new cases per day over the prior seven days.
Nearly all of those cases, however, are due to the Omicron variant, which is generally mild or non-symptomatic.
Indoor mask mandates have been in place for much of the Bay Area since August. The mandates were prompted by the highly contagious Delta variant, which was on the rise at that time. Masking rules remained in place across most of the region as the Delta surge faded and the winter surge of cases tied to the omicron variant began.
Masks are not required outdoors or when people are driving alone in their car.