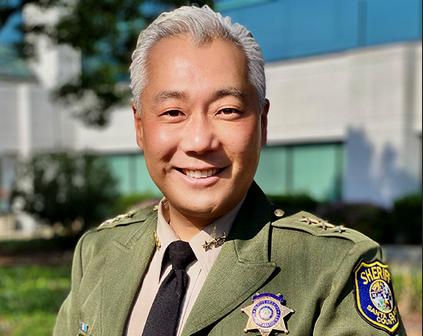 A grand jury has indicted Santa Clara County Undersheriff Rick Sung in connection with the ongoing investigation into allegations that the Sheriff's Department traded concealed-carry gun permits for campaign contributions.
Sung, as undersheriff, is the second-in-command in the sheriff's office.
Sung's attorney, Chuck Smith, said that he was seeking information from the district attorney's office.
"I don't know what the counts are or what the charges are," he said. "I don't really understand what's going on, other than that there was an indictment."
Smith, who has the sole statutory authority in her office to issue the concealed-carry weapons permits, has not been charged. Smith, along with Sung, invoked the Fifth Amendment right against self-incrimination when asked to testify before the grand jury in August.
In its statement Friday, the sheriff's office acknowledged the indictment. "Undersheriff Sung has been placed on administrative leave and we continue to cooperate with the District Attorney's Office," the statement reads.
Sheriff's Capt. James Jensen, attorney Christopher Schumb, attorney Harpaul Nahal and Milpitas gun expert Mike Nichols were indicted in August.
They face felony charges for allegedly conspiring with AS Solution Inc., an international security company, to offer a $90,000 bribe to the sheriff's re-election campaign.
District Attorney Jeff Rosen says $45,000 went to Smith's re-election campaign.
Martin Nielsen, 42, the former executive protection and executive projects director of AS Solution Inc., and Jack Stromgren, 43, the company's former director of operations for embedded projects, pleaded guilty to the alleged bribery scheme on Oct. 19.
Rosen's office also said today that Capt. Jensen, who is on administrative leave following the August indictment, was charged with an additional crime by the grand jury.
Jensen, Nichols, Schumb and Nahal may face prison time. Sheriff's officials did not say what Sung's indictment or the latest indictment of Jensen was for.
Rosen will make an announcement Monday in the gun permits bribery and conspiracy probe. — From staff and wire reports