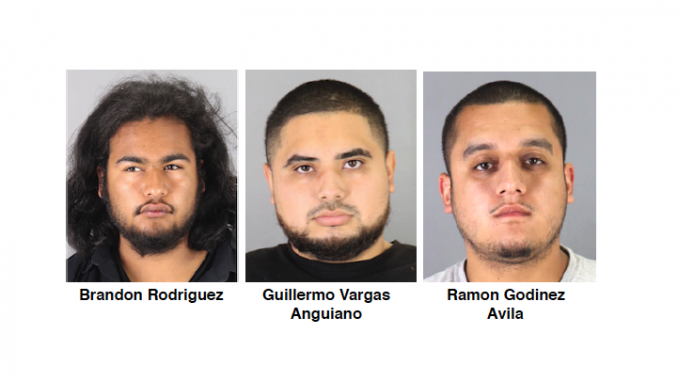 By the Daily Post staff
Authorities have arrested three East Palo Alto men and seized four assault rifles during the search of a home.
East Palo Alto police said in a statement today that starting in August they had been gathering information on several suspects who they believed had high-powered riffles and large capacity magazines.
During the investigation, EPA police learned that one of the suspects, 20-year-old Brandon Rodriguez, was involved in several armed robberies in the Bay Area and was wanted by San Jose police.
EPA police worked with San Jose cops to determine where the suspects lived.
On Monday, detectives with the San Mateo County Sheriff and San Jose police executed a search warrant at a home in the 1400 block of Camelia Drive in East Palo Alto.
During the raid, detectives arrested Rodriguez on a warrant issued by Santa Clara County for robbery, and they arrested Ramon Godinez Avila, 26, and Guillermo Vargas Anguiano, 23, in connection with the fire arms found in the residence.
Detectives say they seized four assault rifles, three handguns, narcotics, ammunition, several large capacity magazines and a bullet-proof vest.
The suspects were also charged with child cruelty/endangerment because the firearms were loaded and easily accessible to a toddler who lived at the address.
Godinez Avila and Vargas Anguiano were later released on $250 bail. The low bond is due to the desire of jail officials to limit the number of inmates in order to reduce the spread of the coronavirus. Rodriguez remains behind bars.