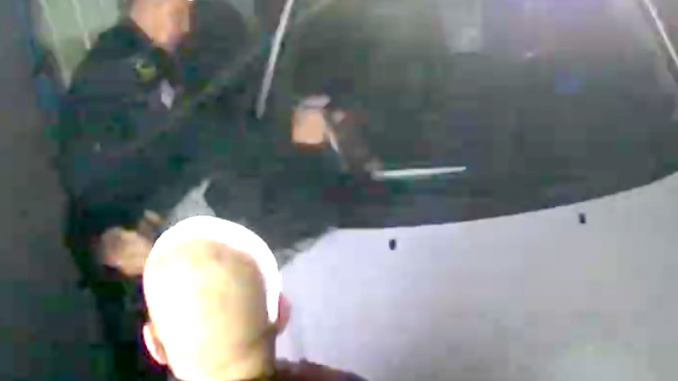 BY EMILY MIBACH
Daily Post Staff Writer
The Santa Clara County District Attorney's Office is gathering information to decide if it will open an investigation into Palo Alto police Sgt. Wayne Benitez after a video surfaced showing him slamming the head of a Buena Vista Mobile Home Park resident who was arrested for driving on a suspended license.
It is not uncommon for the District Attorney's Office to seek more information about police misconduct allegations before fully investigating, spokesman Sean Webby said Tuesday (Aug. 6).
Benitez, along with four other officers and the city of Palo Alto, is being sued by Buena Vista resident Gustavo Alvarez, who alleges excessive force.
On July 23, Alvarez's attorney, Cody Salfen, released security camera footage from Alvarez's home security camera showing Benitez roughing up Alvarez.
About a minute into the video of the Feb. 17, 2018, incident, Benitez says to Alvarez, "So you think you're a tough guy?" and then slams his head into the windshield. Police accused Alvarez of driving while his license was suspended.
The suit also claims the officers mocked Alvarez for being gay.
Benitez has been placed on leave. However, any further information such as when Benitez was placed on leave and if he is on paid leave or not, was not provided to the Post.
The Post had requested that information on July 24, and on Monday received a response that "the city cannot release further records pertaining to Sgt. Benitez' administrative leave," citing two laws that prohibit the sharing of police personnel records.
The incident at Buena Vista occurred on Feb. 17, 2018 and Benitez had been on the job as recently as March 30.
Alvarez alleges that Officer Christopher Conde approached Alvarez while he was standing in the driveway of his mobile home and told him that he had seen him driving while his license was suspended. Alvarez disputed that, and said Conde didn't see him driving on a street or check his license status before detaining him.
Conde then called for backup and was joined by Sgt. Wayne Benitez, Agent Thomas Alan DeStefano Jr. and officers Thomas Hubbard and "Johnson" — the suit doesn't identify the last officer's first name.
Police then slammed Alvarez onto the front hood and windshield of his 2002 Ford Focus, and assaulted him as they searched him, his home and car.
Alvarez claims that Benitez, 61, punched him in the back while he was face down on the hood of his car, slapped him on the side of the face and yelled at him to shut up.
Benitez is also accused of going into a "fit of rage" and grabbing the handcuffed Alvarez before slamming his face and body onto the hood of his car while asking, "So you think you're a tough guy?"
This allegedly knocked Alvarez's tooth loose, which he said he later pulled out in jail because he was afraid to ask for medical care. When he complained that he was bleeding, Benitez yelled, "You're gonna be bleeding a whole lot more."
The suit states that officers mocked and humiliated him for being gay while he was in their custody.
Alvarez and someone else off camera repeatedly asked officers if they had a warrant. They said they didn't need one.
Alvarez was booked into Santa Clara County Jail that night on suspicion of DUI, driving while his license was suspended or revoked for DUI, resisting arrest and possessing both drug paraphernalia and lost property.
Charges from that night were dismissed.
Police logs show that three weeks before the incident, Alvarez was cited on suspicion of driving with a suspended license on Vista Avenue at El Camino Real.
Seven felony complaints and 11 misdemeanor complaints have been filed against Alvarez in Santa Clara County Superior Court in the last 20 years.
In July 2012, Alvarez was arrested for allegedly breaking the skylight at JJ&F at 520 College Ave. and rappelling into the store using a black satellite dish cable as a rope.
In April 2013, Alvarez was arrested on suspicion of possessing drug paraphernalia, driving on a suspended license and on a warrant.
In May 2018, he was arrested at home on suspicion of drug intoxication and possessing drug paraphernalia and drugs for sale.
Alvarez was arrested on warrants from outside police agencies in September 2017, December 2017 and March 2019.
Benitez also has a legal history. He was named in another police lawsuit against the city filed by Mahmoud Elsayed, 65, who said he was wrongfully accused of smashing a floodlight outside a townhouse that he owns and rents to tenants at 4173 El Camino Real in Palo Alto.
Elsayed alleges police botched their investigation, racially profiled him and exhibited Islamaphobia. The lawsuit names former Police Chief Dennis Burns, former Capt. Ron Watson, Detective David McAlee and Sgt. Benitez. The suit is still pending.