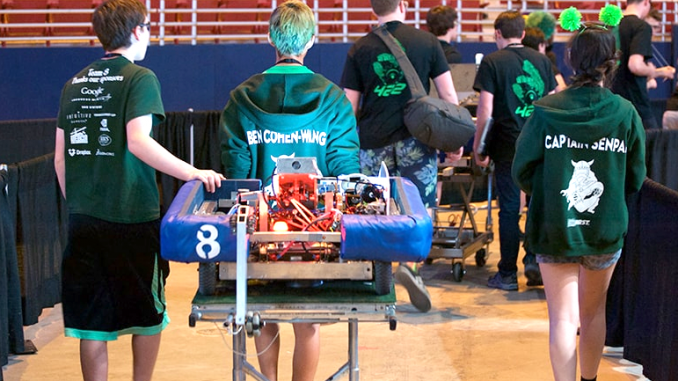 BY ALLISON LEVITSKY
Daily Post Staff Writer
Palo Alto High School robotics coach Kathleen Krier resigned today (Oct. 18) after students accused her of intimidating, harassing and bullying them, according to Superintendent Don Austin.
Concerns over the safety of the robotics lab appear to have something to do with Krier's resignation.
The district brought in the insurance firm Keenan and Associates on Tuesday to review the safety of the robotics lab. A substitute has been brought in to oversee the robotics team while the district looks for a permanent replacement, Austin said.
Krier's resignation comes after three robotics team captains, two team parents and a boosters volunteer complained about her at the Palo Alto school board meeting on Oct. 9.
By last weekend, Krier was on a nondisciplinary, paid leave of absence to investigate the student complaints.
"(Krier) has exhibited some really concerning behavior that has definitely affected my well-being and ability to concentrate in school," said Paly junior Lawrence Chang, the robotics team's build captain, on Oct. 9.
'Emotionally charged speech'
Chang said Krier pulled him aside on Sept. 22 and "started breaking down in front of me."
"There was a lot of emotionally charged speech. She was in tears and kind of telling me how hard her life was coming to this new city, being a new head coach and so forth," Chang said.
Krier made "a lot of direct insults toward me and the team in general about how we're giving her such a hard time," Chang said.
Co-captain Bryan Yang, a senior, said Krier had made the team feel "intimidated, scared and bullied," leaving them with a sense of anxiety when going to the robotics lab.
Krier has also threatened to call security on Yang, and threatened to kick him off the team three times, said co-captain Jennifer Xu, a senior.
Students met with several administrators, including Paly Principal Adam Paulson and assistant principals Jerry Berkson and Tom Keating, but the meetings didn't lead anywhere, Xu said, so the students took their concerns directly to the school board.
Krier last taught at Monte Vista High School in Danville, where she started in August 2014. She started at Paly in August. She declined to comment yesterday when reached by phone.