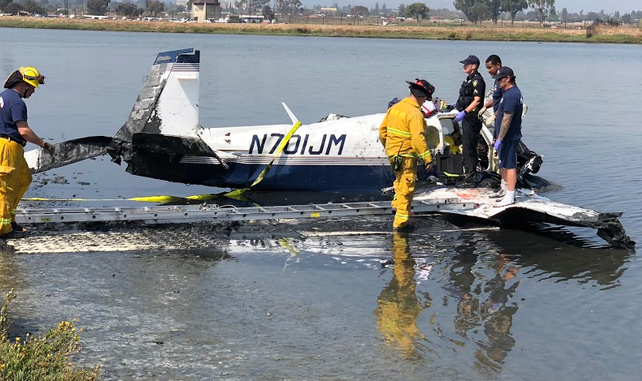 This story was originally printed in the Friday, Sept. 28, edition of the Daily Post.
BY ALLISON LEVITSKY
Daily Post Staff Writer
A pilot who died when he crashed a small plane into the Palo Alto Duck Pond at the Baylands expressed confusion when an air traffic controller directed him to the KGO radio towers next to the Dumbarton Bridge, according to a preliminary accident report by the National Transportation Safety Board.
W. John Spencer, 66, of Placerville, was a volunteer pilot with Angel Flight West, a nonprofit that provides free flights and car rides to people heading to medical appointments.
The Sept. 4 crash was the organization's first fatality.
Spencer was flying Nancy Dellamaria, 49 and her daughter Chloe King, 16, both of Redding, to Lucile Packard Children's Hospital in Palo Alto for Chloe's surgery.
According to the accident report, Spencer was 9.8 miles north of Palo Alto Airport when the air traffic controller told him to "fly to KGO" and enter the left base for runway 13.
Spencer responded that he was unfamiliar with "KGO," and the controller explained that it was a set of radio towers, and described where they were located relative to Highway 84.
Fifty seconds later, the controller told Spencer that the KGO towers were 2.5 miles directly ahead of his Mooney M20J and told him to fly to the Dumbarton Bridge.
About 90 seconds later, or three minutes and 15 seconds before the landing, the controller told the pilot of another plane that Spencer's plane was 900 feet above the Dumbarton Bridge.
Two minutes and 45 seconds before the 11:10 a.m. landing, the controller told Spencer he could land.
Fifty seconds later, Spencer said he was having trouble visually finding the airport, so the controller told him to turn to the final approach course.
Aborted landing
A minute and 50 seconds later, Spencer said he was aborting the landing and going around. The controller told him to make "left closed traffic" and asked if he needed help.
Spencer said no, and that he "just came in too fast."
A flight instructor and his student who were on the taxiway saw the plane begin to "porpoise," oscillating in pitch and alternately contacting and bouncing between the main landing gear and the nose landing gear.
They told Spencer to "go around," then saw the plane lift off and the landing gear retract. The flight instructor then saw the plane enter a very steep left bank and watched the nose pitch sharply down before plummeting into the ground.
Spencer died in the crash, and Dellamaria was seriously injured, while Chloe only suffered minor injuries.
Spencer was no stranger to the Palo Alto Airport: he had landed there 25 times in three planes, mostly for Angel Flight. The Sept. 4 crash was his fourth flight in the plane he was flying.