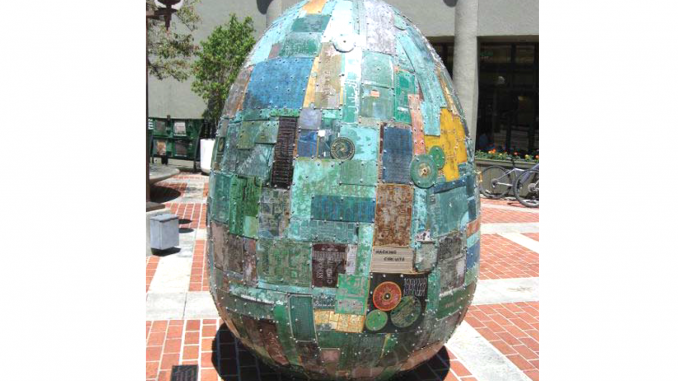 By the Daily Post staff
A Harvard spokesman said the university is "fortunate" to inherit the Digital DNA egg that the city of Palo Alto removed from Lytton Plaza last week.
The 7-foot-tall, 300-pound egg made of computer circuit boards and steel had drawn complaints from the public for being unattractive. But the Palo Alto Public Art Commission voted to remove it because it said it was deteriorating and cost too much to maintain. The commission felt it was unsafe. The artist, Adriana Varella, vigorously protested the removal.
A Harvard Business School graduate living in Silicon Valley recently purchased the piece for an undisclosed amount and decided to donate it to his alma mater.
"We feel very fortunate to have the opportunity to display this important work on our campus," Brian C. Kenny, a spokesman for the Business School, said in a statement. "The impact of technology on our day-to-day lives is undeniable and we hope Adriana Veralla's unique representation of this will challenge those in our community to reflect upon that fact."
Varella told the Boston Globe she was upset with the city's decision but adds that Harvard is the "best place" for the sculpture.