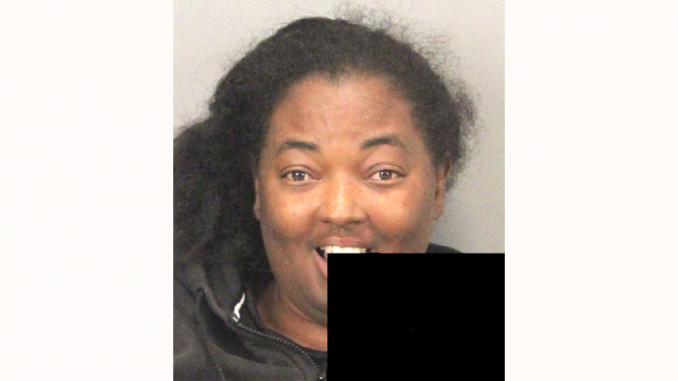 By the Daily Post staff
A San Joaquin County woman punched a Palo Alto police officer and a police dog following a car chase early this morning that ended in the foothills, police said.
Tyechia Denise Payton, 34, of Thornton, made an obscene gesture while she was being photographed by police following her arrest this morning. That's why the bottom right portion of her booking mug is covered.
The episode began at 1:23 a.m. when a Palo Alto police officer ran a registration check on a car and discovered it was associated with an outstanding felony warrant for assault with a deadly weapon.
The officer stopped the car, a blue 2013 Hyundai Sonata, on El Camino Real at Stanford Avenue.
The driver initially complied with the officer and even put her hands outside of her window at the officer's request.
Then she started driving again, going west on Stanford Avenue, through the Stanford campus, to Junipero Serra Boulevard.
She went west on Page Mill Road up to the foothills, where the chase ended not far from the Palo Alto Hills Country Club where the road ends in a dead end.
The driver got out of the car and began punching the officer, police said.
A second offer fired a Taser at her, and she began to run. But a police dog caught the woman after a short chase. Police say she hit the police dog, too.
The woman was taken to the hospital for treatment of minor injuries. No officers or police dogs were injured.
Payton was booked into the Santa Clara County Main Jail for felony evading, assault on a police officer and assault on a police dog (both felonies), and misdemeanor resisting arrest. They also booked her for two outstanding warrants out of the Fremont Police Department: the felony warrant associated with her vehicle (for assault with a deadly weapon), and a misdemeanor warrant for traffic offenses.