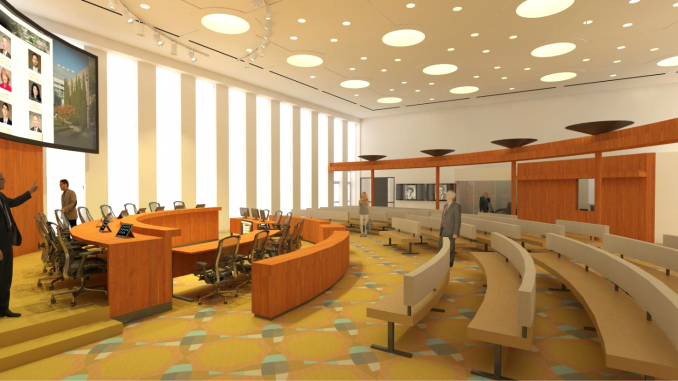 BY EMILY MIBACH
Daily Post Staff Writer
Maybe they can't solve the housing crisis or ease traffic, but three local governments are looking at replacing or revamping their meeting rooms.
• Palo Alto is looking at spending up to $2 million to remodel its council chambers.
• Menlo Park is considering building a new library at Burgess Park that would include new council chambers.
• And now San Mateo County's Board of Supervisors wants to build new chambers for its meetings in $151 million, six-story office building the county is putting up at the corner of Marshall Street and Middlefield Road, next door to the Government Center.
Supervisor David Canepa, who represents north county, said it will be a building for the 23rd century, and that the board needs a space that is "workable."
The current building, Canepa said, has had rat and mouse problems, the fire alarm goes off erroneously about every three weeks and he can hear conversations in other rooms.
"Why would we have a chamber in the old building?" Canepa said, adding that county employees' morale will go up with the new building.
Housing instead of county offices?
Some have said the new county building would be an ideal location for housing like other new buildings in the area.
But Canepa said the location is "the worst possible idea."
"Whoever thinks that is not listening to the community in Redwood City," Canepa said. "What I hear from talking to people is that some are saying there is enough housing in that area."
But, that does not mean, Canepa said, that there isn't a lack of housing in the county. He said the board is working on that.
"The board has made historical investments with Measure K," he said. "But even if we build all of this housing, will we solve the whole thing? No, but we are trying to get there." Last year the board decided it would spend $22.5 million on funding low-income housing projects with a quarter of the $81 million its half-cent sales tax generates.
The new, 186,000-square-foot building will have four levels of office space. It will also have an open plaza area at the ground floor level along with a new hearing room for the supervisors, who would use it on alternating Tuesdays.
The supervisors today (June 50 will review an environmental report for the new office building and a parking garage.
The supervisors aren't alone in their quest for new meeting space. Menlo Park City Manager Alex McIntyre is proposing a new council chambers in the $58 million library he hopes to build at Burgess Park. He says it could be a multipurpose room for other activities too.
In Palo Alto, the council has approved up to $2 million to spend on remodeling its chambers, which would include updates to the audio-visual equipment, council voting system and projection screens.