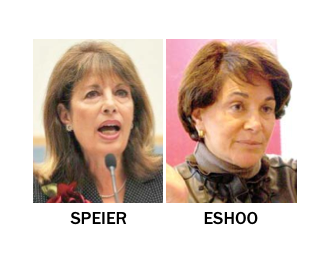 By the Daily Post staff
Peninsula Congresswomen Anna Eshoo and Jackie Speier didn't return phone calls from the Post yesterday (Nov. 29) to see if they thought fellow Congressional Democrat John Conyers should resign over sexual misconduct allegations.
The Post called Eshoo and Speier's communications departments yesterday around 2 p.m. and did not hear back from them yesterday. Both have been champions of women's rights.
Speier, D-San Mateo, has waded into the larger sexual harassment debate. She says she's been grabbed and kissed while a young congressional aide by a chief of staff for a congressman and has said recently that the system for reporting sexual harassment is set up to protect the harasser.
Eshoo has gotten behind legislation that supports equal pay for women and health care for women.
Conyers was called an "icon" by House Minority Leader Nancy Pelosi, D-San Francisco, when she was asked about the allegations against him on "Meet the Press" Sunday.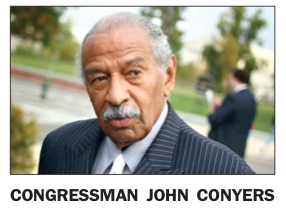 Pelosi also questioned the identity of Conyer's accusers and declined to call for Conyers' resignation. At the same time, she had hailed the "zero tolerance" movement against sexual misconduct in Congress as "transformative … so wholesome, so refreshing, so different."
The allegations against Conyers surfaced last week when BuzzFeed News disclosed that the Michigan Congressman had settled a 2015 complaint from a woman on his staff who claimed she was fired because she rejected his sexual advances.
BuzzFeed reported that Conyers' office paid the woman more than $27,000 in the confidential settlement. BuzzFeed also published affidavits from former staff members who said they had witnessed Conyers touching female staffers inappropriately or requesting sexual favors.
The revelations showed that Congress has maintained a fund to pay women who accuse officials of sexual misconduct.
Nobody knows exactly how much money has gone through the fund or who got the payouts because operations of Congress are not subject to the Freedom of Information Act. Speier has said a number of members have used the fund.
In addition to the woman who settled in 2015, a former Conyers scheduler filed a complaint earlier this year, but later dropped it. The Associated Press hasn't released her name. And a third ex-staffer, Deanna Maher, said Tuesday that in 1997 Conyers undressed to his underwear in front of her and twice touched her leg inappropriately.
Conyers first was elected to the U.S. House in 1964. He missed two roll-call votes late Tuesday and was photographed by a passenger boarding a flight to Detroit from Washington.
The House Ethics Committee is investigating Conyers, who announced Sunday that he would step aside as the top Democrat on the Judiciary Committee.
On Wednesday, Congresswoman Kathleen Rice walked out of a Democratic Caucus meeting, saying the issue wasn't being taken seriously. Rice said Pelosi spoke only "very briefly" about sexual harassment and focused mostly on efforts by female members to combat it.
"But let's talk about the big elephant in the room. That's why I was done with the meeting," Rice said.
"I don't have time for conversations that are not real, that are not going to advance the ball for all of us here in Washington, and I for one am not going to stand silent even in the face of pressure from leadership," she added.
Maher told The Associated Press on Tuesday that the first incident occurred in 1997 during a Congressional Black Caucus event in Washington.
Maher said while she was in the bedroom of a hotel suite, Conyers walked in, ordered sandwiches and undressed.
"I had my nightclothes on," said Maher, who now lives in the Holland area in western Michigan. "I was just scared to death. I was married at the time. He sat in the bedroom taking his clothes off. I didn't say anything and he didn't say anything."
Nothing happened between them, she added.
"He didn't go naked. He was down to his skivvies," Maher said. "He sat there eating sandwiches and then he stormed out and slammed the door. I was so embarrassed and ashamed of myself for being so stupid. I needed a job."
She added: "He didn't put his hand on me, but the message was loud and clear."
Maher's allegations against Conyers initially were reported by The Detroit News. She said there were other incidents involving unwanted touching in a car in 1998 and unwanted touching of her legs under her dress in 1999.
Both Speier and Eshoo's offices said the congresswomen may call the Post back today.