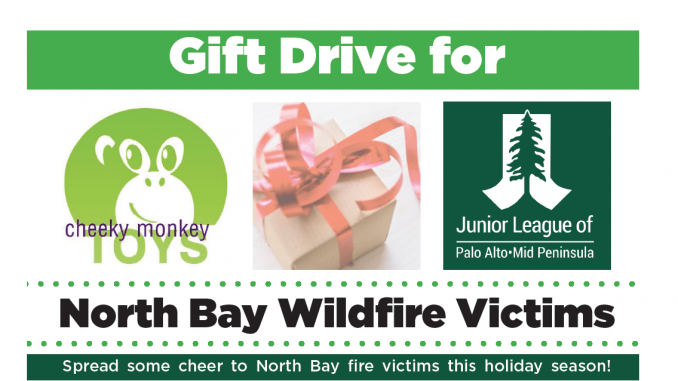 The Christmas spirit will be shining bright in Menlo Park today (Dec. 1) with a toy drive for kids who lost their belongings in the Wine Country wildfires and a tree lighting.
The Junior League of Palo Alto-Mid Peninsula will be collecting new Christmas toys today and tomorrow at two locations in Menlo Park. All gifts will be donated to students at Abraham Lincoln Elementary School in Santa Rosa.
Cheeky Monkey Toys will be matching donations of toys bought to the store located at 640 Santa Cruz Ave. in Menlo Park until noon tomorrow (Saturday, Dec. 2), according to the Junior League. Donors are advised to mention at checkout that they are purchasing the items for the gift drive in order to get the match.
The store will wrap and hold the gifts for the Junior League to collect.
Then tomorrow (Saturday, Dec. 2) the volunteer group will accept wrapped toys from 8 a.m. to 2 p.m. at 555 Ravenswood Ave. in Menlo Park.
The presents should be for ages 5 to 11. Gift suggestions include puzzles, books and Legos, as well as gift cards. Donors should label wrapped gifts with age range and gender, if applicable.
The annual Menlo Park Christmas tree lighting is scheduled from 5:30 p.m. to 7:30 p.m. today (Dec. 1) at Fremont Park, which is on Santa Cruz Avenue and University Drive downtown. The lighting will include live entertainment, free cocoa and cookies, a digital art display and a visit from Santa and his elves.
For more information about the gift drive, call the Junior League at (650) 321-5026 or Cheeky Monkey at (650) 328-7975. For more information about the tree lighting, visit menlopark.org/treelighting.