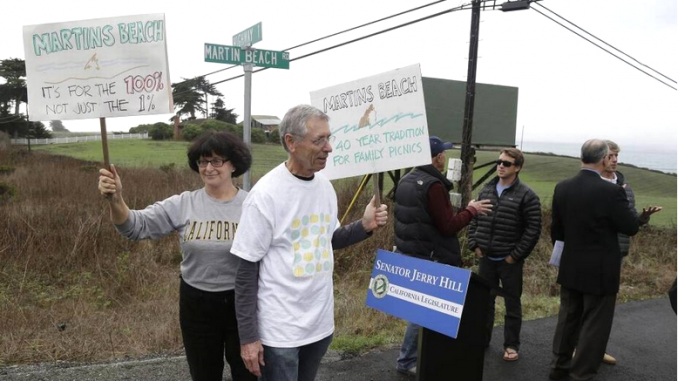 Above, Julie Graves, left, of Albany, Calif., and Chris Adams, second from left, of Berkeley, hold up signs in support of a beach access bill near Martin's Beach in Half Moon Bay in a Feb. 10, 2014 demonstration. AP photo by Eric Risberg.
BY EMILY MIBACH
Daily Post Staff Writer
Those trying to get to Martins Beach, near Half Moon Bay, will find that the gate to the beach has been closed following a court victory by billionaire venture capitalist Vinod Khosla.
Judge Steve Dylina ruled on Nov. 3 that the public does not have the right to access the road to Martins Beach, which is on Khosla's property. Khosla was sued by a group called the Friends of Martin's Beach in 2012, claiming that the road to the beach is public.
The group's attorney, Gary Redenbacher of Scotts Valley, said the previous owners of the beach "took actions to" encourage people to drive down the road. Some of those actions include the billboard advertising the beach that stood for 50 years, the small store at the beach and the picnic tables that the previous owners had set up were all examples of the owners making the area public, Redenbacher said.
Redenbacher said he plans on appealing Dylina's ruling.
The gates to the beach were open for about a month after a ruling by the state First District Court of Appeal against Khosla on Aug. 10. That ruling was regarding another case involving the beach by the nonprofit Surfrider Foundation, filed in 2014.
The suit said the beach had been open to the public since at least 1918. But when Khosla bought the mansion in 2009 for $35 million, he closed the gate.
In other beach news, the Peninsula Open Space Trust announced yesterday that it has finalized the $5 million purchase of Tunitas Creek Beach, not far from Martins Beach.