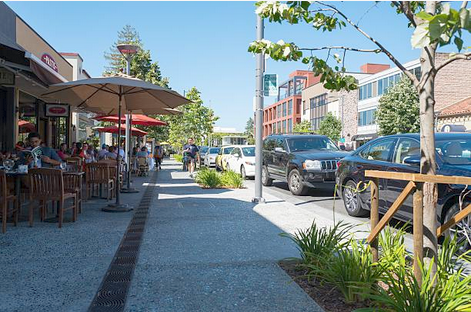 BY BRADEN CARTWRIGHT
Daily Post Staff Writer
Palo Alto City Council voted tonight (Nov. 6) to permanently close California Avenue to cars.
City Manager Ed Shikada had suggested another one-year closure while a consultant came up with a permanent design, but council members said it was time to let business owners know which way they're headed — toward a pedestrian mall.
"We have to make a decision," Councilman Ed Lauing said.
Council voted 5-2, with Mayor Lydia Kou and Councilwoman Vicki Veenker voting no.
Veenker said she preferred the street closed but wasn't ready to make the decision tonight. Kou sided with retailers who said the closure is hurting their business.
Hundreds of people wrote to council, both for and against the street closure, and more than 30 people spoke at the meeting.
A coalition of business owners pushed council to open at least one lane because they said the closure was only helping a few restaurants that use the space for outdoor dining.
But council members said that the coalition's struggles are more to blame on a lack of office workers.
"I am confident that opening the street to cars will not bring any more workers into their offices, and it won't stop people from shopping on Amazon," Councilman Pat Burt said.
Since the pandemic, less than half of workers have returned to nearby Stanford Research Park, Assistant to the City Manager Steve Guagliardo said.
The vote tonight wasn't final because a permanent closure wasn't on the agenda and because the city has to follow a specific process, Assistant City Attorney Tim Shimizu said.
"Council would not be able to 100% definitively take that very formal action tonight," he said.
Chief Transportation Official Philip Kamhi said he didn't know when he would return for council to take a final vote. The city will change its contract with the consultant to look at only a closed street, rather than studying the different options.