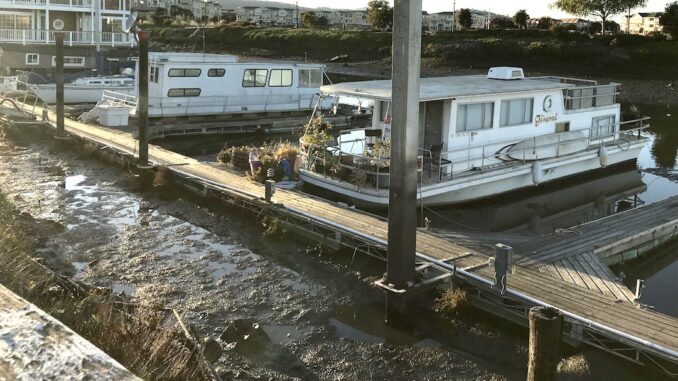 BY EMILY MIBACH
Daily Post Staff Writer
Redwood City will pay a combined $380,000 to two people to move out of Docktown without a fight.
The city has paid $760,000 in settlements to Docktown residents this month.
Docktown is a group of houseboats in the Redwood Channel east of Highway 101, the city has run the marina since 2013 and told the 100 or so residents to leave in 2016 because the marina is on state land.
City Council met behind closed doors on Monday (Oct. 23) to discuss the two settlements, one with John Chambers the other with Tania Solei, both of whom have brought lawsuits against the city. Both will get $190,000. Chambers agreed to move out of Docktown by Nov. 27 and Solei within two weeks, according to City Attorney Veronica Ramirez.
A jury on Oct. 12 decided the city must pay $345,873 to Chambers, Jed Humphries, Nina Peschcke-Koedt and Edward Stancil. It was not immediately clear at Monday's meeting if Chambers will be getting awards in both cases, or if one replaces the other.
The city has been settling with other Docktown residents who have refused to move. Earlier this month the city paid $190,000 each to Emilio Diaz and Dawn and Dan Slanker.
The city won't be going broke paying the settlements. The city posted a budget surplus of $58.4 million in the 2022 fiscal year.
The effort to remove the houseboats began in 2015 when attorney Ted Hannig, who lives in a townhouse overlooking Docktown, and a mostly anonymous group sued the city for allowing houseboats to remain in the marina, which is state property.
The city had been managing the property. But the state attorney general's office has told the city the live-aboard boaters are there illegally.
The city paid $1.5 million to Hannig and his group to settle the suit. The settlement also required the city to put at least $3 million into a fund to clean pollution at Docktown and provide relocation assistance to residents.
The result of the suit was that the Docktown would be closing, though council members at the time denied that would happen. "I want to state unequivocally that this is false," then-vice mayor Ian Bain said in 2016.
In a last-ditch move, then state legislators Jerry Hill and Kevin Mullin tried to put together a bill to legalize Docktown. But the deal fell apart because of disagreements among residents. A deal-breaker was a clause that would prevent residents from selling or renting the boats, which were docked on what the courts had determined to be state property.
ᐧ