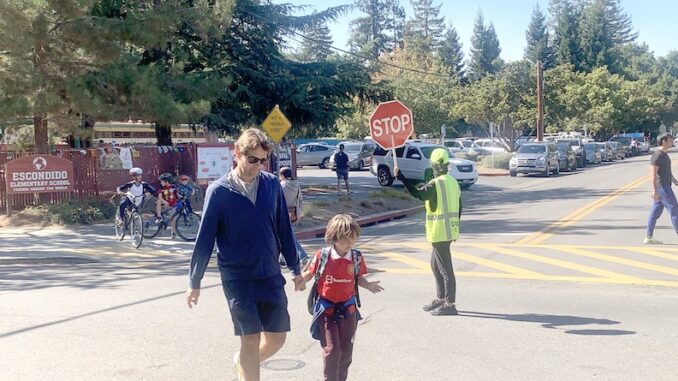 BY BRADEN CARTWRIGHT
Daily Post Staff Writer
The Palo Alto Police Department has assigned a crossing guard to Escondido Elementary School after a 12-year-old boy was hit by a car, galvanizing parents to advocate for traffic safety around campus.
"There is fast progress being made, which is awesome," said Melissa Oliviera, the parent of the boy who was hit on Sept. 8.
Oliviera said support from Mayor Lydia Kou and an article last week pushed city officials to act.
Parents packed the community meeting room at Palo Alto City Hall last week to say the intersection of Escondido Avenue and Stanford Avenue had been chaotic for years. They were bothered that an adult wasn't out the day after the crash.
"We need somebody at the intersection protecting our kids now. It is not OK what is going on," parent Ali Boehm told council and school board members on Sept. 21.
After the schools were out for Yom Kippur on Monday, a crossing guard was out there for the first time on Tuesday morning (Sept. 26).
The crossing guard will cost the city $30.47 an hour for four hours each school day, Capt. James Reifschneider said.
The city is counting how many cars and kids use the intersection to see if the crossing guard will stay out there, he said.
The city had another meeting yesterday at the downtown library to talk about medium and long term improvements.
Kou was there, and she has done two walkthroughs of the Escondido intersection, Oliviera said.
Making priorities
"They're prioritizing not just Escondido but the whole thoroughfare of Stanford Avenue," Oliviera said.
The city is spending $334,000 to update its bicycle and pedestrian transportation plan. It's supposed to be done by fall 2025.
Residents of College Terrace have been grappling with cut-through traffic from Stanford since the 1970s.
Over the years, all of the streets in the neighborhood have added roundabouts, stop signs, speed bumps and barricades to discourage and slow drivers.
The solution isn't just infrastructure like bike lanes, Oliviera said. Kids and parents also need to be educated on bike safety. The city and school district have scheduled several bike safety events for students in October.
Santa Clara County is planning for Stanford to add between 700 and 900 apartments to Escondido Village, a graduate residence community next to College Terrace.
Many of the people who move in are unfamiliar with College Terrace and may not know where the elementary school is, parent and Stanford instructor Sibyl Diver said.
Stanford started its school year on Tuesday (Sept 26).