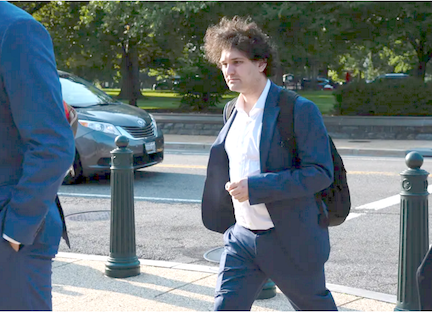 FTX founder Sam Bankman-Fried, who has been living under house arrest at his parents home on the Stanford campus, was sent to jail in New York today (Aug. 11) to await trial after a bail hearing left a judge convinced that he had repeatedly tried to influence witnesses against him.
U.S. District Judge Lewis A. Kaplan ordered Bankman-Fried's bond revoked after prosecutors said he'd tried to harass a key witness in his fraud case last month when he showed a journalist the witness's private writings and in January when he reached out to the general counsel for FTX with an encrypted communication.
His lawyers insisted he shouldn't be jailed for trying to protect his reputation against a barrage of unfavorable news stories.
Kaplan said he had concluded there was probable cause to believe Bankman-Fried had tried to "tamper with witnesses at least twice" since his December arrest.
A defense lawyer said an appeal of the incarceration order would be filed and asked for an immediate stay of the order.
The 31-year-old has been under house arrest at his parents' home at Stanford, since his December extradition from the Bahamas on charges that he defrauded investors in his businesses and illegally diverted millions of dollars' worth of cryptocurrency from customers using his FTX exchange.
Bankman-Fried's $250 million bond severely restricts his internet and phone usage.
Two weeks ago, prosecutors surprised Bankman-Fried's attorneys by demanding his incarceration, saying he violated those rules by giving The New York Times the private writings of Caroline Ellison, his former girlfriend and the ex-CEO of Alameda Research, a cryptocurrency trading hedge fund that was one of his businesses.
Prosecutors maintained he was trying to sully her reputation and influence prospective jurors who might be summoned for his October trial.
Ellison pleaded guilty in December to criminal charges carrying a potential penalty of 110 years in prison. She has agreed to testify against Bankman-Fried as part of a deal that could lead to a more lenient sentence.
Bankman-Fried's lawyers argued he probably failed in a quest to defend his reputation because the article cast Ellison in a sympathetic light. They also said prosecutors exaggerated the role Bankman-Fried had in the article.
They said prosecutors were trying to get their client locked up by offering evidence consisting of "innuendo, speculation, and scant facts."
Since prosecutors made their detention request, Kaplan has imposed a gag order barring public comments by people participating in the trial, including Bankman-Fried.
David McCraw, a lawyer for the Times, had written to the judge, noting the First Amendment implications of any blanket gag order, as well as public interest in Ellison and her cryptocurrency trading firm.
Ellison confessed to a central role in a scheme defrauding investors of billions of dollars that went undetected, McGraw said.
"It is not surprising that the public wants to know more about who she is and what she did and that news organizations would seek to provide to the public timely, pertinent, and fairly reported information about her, as The Times did in its story," McGraw said.
— By the Associated Press