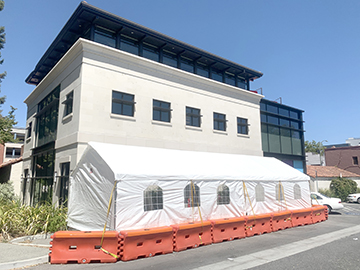 BY BRADEN CARTWRIGHT
Daily Post Staff Writer
A nonprofit that runs Palo Alto's senior services has erected a tent in its parking lot and will welcome back a nonprofit that serves lunches to seniors.
Avenidas will seat up to 65 seniors for lunch from La Comida starting on Monday, the organizations said in a joint statement yesterday.
The nonprofits are reuniting after six years apart, starting in 2017 when Avenidas renovated the senior center at 450 Bryant St.
Since the pandemic, La Comida has been serving takeout at different locations in downtown Palo Alto, while the Stevenson House in south Palo Alto offered sit-down meals.
Avenidas has agreed to seat 28 people inside the buildings and 37 people in a tent in a parking lot. La Comida will cook the meals at the Stevenson House and bring them over.
The arrangement is temporary. Councilman Ed Lauing said that the city will work on finding a permanent home for La Comida.
La Comida was facing a deadline for finding a permanent dining room, because the state agency that provides funding for senior nutrition was reverting back to pre-pandemic rules requiring in-person lunches.
Avenidas CEO Amy Yotopoulos wasn't available for an interview yesterday..
La Comida Board President Bill Blodgett told the Post in April that he was looking at two other locations.
One was an auditorium on the second floor of the Methodist Church at 625 Hamilton Ave., but there's no elevator and some of the seniors use walkers and wheelchairs. But BLodgett said La Comida hasn't found a contractor, and constriction could take a year or two.
Another potential location is on the ground floor of the old Barker Hotel, now an affordable apartment complex at 439 Emerson St.
Alta Housing owns an old restaurant space and is willing to rent it to La Comida, but there is a lease that doesn't allow La Comida to move in until 2024 at the earliest, Blodgett said.
La Comida's preferred location is back at Avenidas, because seniors would have a one-stop shop for social services and their lunches.
"We just think there's great synergy," Blodgett said.