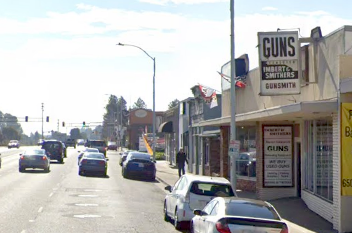 This story was first published in Friday's Daily Post. If you want to read the important local news stories first, before they're lifted by the other papers, pick up the Post in the mornings at 1,000 Mid-Peninsula locations.
BY EMILY MIBACH
Daily Post Staff Writer
ATF has shut down long-standing San Carlos gun store Imbert & Smithers, and now the City Council may take over the gun store's lease.
Many San Carlos residents have been outspoken in their opposition to gun stores, so anybody who wanted to replace Imbert & Smithers would have faced an uphill battle.
Imbert & Smithers' was barred from selling guns by the ATF on Dec. 31, 2022 due to what attorney Richard Pierce says were technical errors on paperwork. The Post requested information from ATF on Imbert & Smithers' federal license being revoked, but did not get a response.
After the store's license was revoked, owner Jeana Rolsky-Feige began looking for a new gun store to take over the space at 1144 El Camino Real. But because of San Carlos' strict gun store rules Rolsky-Feige had six months to find a new store to take her spot, according to a report by City Attorney Greg Rubens.
Rolsky-Feige told the Post that deals with other gun stores fell through, and ultimately decided that taking the city's deal was best for her and her family.
In 2017, Turner Outdoorsman submitted an application to open a store on Industrial Road near REI. The application sparked ire in the community, at a Nov. 13, 2017 meeting, about 100 residents spoke, many in favor of halting Turner Outdoorsman from opening.
Strict regulations
Following the outcry, the City Council passed a moratorium on gun stores from opening in town. In 2019, the council inposed rules severely limiting where gun stores would open, to ensure that they would not be near schools, parks, preschools and other community gathering places.
Imbert & Smithers' long time location was grandfathered in, but if a new gun store applied to open up there, it would not get approved.
As a result, the city is offering to buy Rolsky-Feige out of her lease. It will pay Imbert & Smithers $390,000, covering her lease for the rest of the year. The city would then pay the $7,300 monthly lease until it expires on noon Feb. 1, 2027, according to Rubens' report.
The city doesn't have a set plan for the property just yet, but Rubens' report suggests that businesses that may be displaced by the city building housing on recently purchased lots could take over the 1144 El Camino building.
Store dates back to the 1960s
Imbert & Smithers has been in business since the 60s, with Rolsky-Feige's father, Alex, purchasing the business in 1989. Rolsky-Feige said her family is the third set of owners of the store.
The Post asked Rolsky-Feige if she felt the city tried to push her out of business after passing stringent rules on gun stores in 2019. Rolsky-Feige said while some restrictions seemed "a little over the top," she never felt pushed out by the city, and is appreciative of the city's offer.
"I'm sad there will be no more gun shops will be in the area," Rolsky-Feige said.
Those wishing to buy guns must now either go to Burlingame at Coyote Point Armory or to one of the three or so in Mountain View and Sunnyvale.
Imbert & Smithers' closing comes as Redwood City next door deals with its own gun store moratorium, similar to what San Carlos dealt with after Turner Outdoorsman submitted its application.