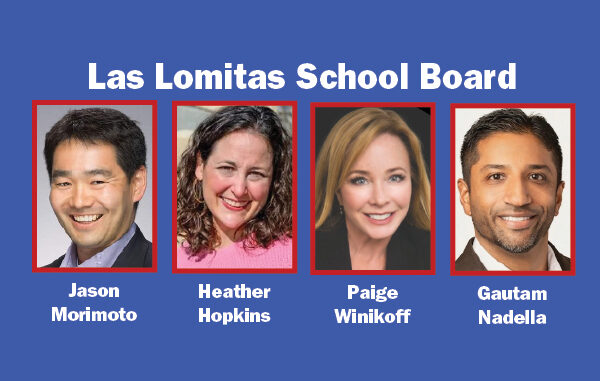 By Emily Mibach
Daily Post Staff Writer
Update, June 14, 2023 — After a bumpy start, the Las Lomitas School Board yesterday (June 14) officially selected school volunteer Laura Moon to replace board member Brian Ross when he steps down at the end of the month.
The board had voted last week to appoint Moon, but Ross participated in the vote. State law says the person leaving the board cannot vote on his or her replacement.
Board President Jason Morimoto yesterday apologized for not being aware of the state law.
Last Wednesday, the board originally was split 2-2 between Moon and Ladera resident Susanna Chenette in a straw vote. Ross cast the deciding vote for Moon.
Then the board took a formal vote and unanimously selected Moon.
Gautam Nadella and Paige Winikoff, who both initially expressed support for Chenette at the board's meeting last week, said that they were pleased with all four candidates and would be happy with any of them.
Winikoff urged all four to run for the three seats that will be opening up next year.
When does the audience talk?
The board was poised to approve Moon's appointment when meeting attendees asked to make public comments. Morimoto pointed out that the time for attendees to give comments was earlier in the meeting, which is unlike most other council and boards where meeting attendees can speak about each item on the agenda. But the rest of the board agreed that residents could speak up.
A handful of residents who live in Ladera showed up at the meeting, urging the board to appoint Chenette, who lives in the neighborhood. Ross lives in Ladera, and residents are worried about losing their voice on the board, which will now be comprised of Menlo Park and Atherton residents. Ladera makes up about 14% of the district's population, said Diane Schraeder.
Lena Perkins advocated for Chenette saying she would be a great addition to the board as an attorney with children in the district. Perkins, and the other Ladera residents, pointed out that Ladera deals with different issues, such as busing and leased properties by the district.
Yvonne Schmidt spoke in favor of Moon's appointment, she said Moon is the most competent and has years of working with the district. Moon has been a substitute teacher, robotics coach, PTA co-president and basketball coach.
Original story, June 9, 2023 — Las Lomitas school board member Brian Ross, who is resigning effective June 30, shouldn't have been able to vote on his replacement under state law. But that's what happened on Wednesday night (June 7).
Apparently nobody on the school board was aware of the law.
But yesterday (June 8) the district heard from people who actually know the law. Now, the district has scheduled a special meeting on Wednesday (June 14) to vote again on who will replace Ross.
On Wednesday night, it appeared the four members who were eligible to vote were split 2-2 on who should replace Ross.
In a straw poll, board members Jason Morimoto and Heather Hopkins wanted district volunteer and substitute teacher Laura Moon, saying her volunteer work would allow her to hit the ground running.
Board members Paige Winikoff and Gautam Nadella voiced support for Susanna Chenette, saying they were impressed with her skill set and liked her suggestions to look at different ways for students to learn. Winikoff was also impressed with Chenette's experience with managing employees.
Ross took Moon's side.
Then the board voted again, unanimously picking Moon.
The law that un-did Moon's selection is state Education Code Section 35178, which says: "A member of the governing board of a school district who has tendered a resignation with a deferred effective date pursuant to Section 5090 shall, until the effective date of the resignation, continue to have the right to exercise all powers of a member of the governing board, except that such member shall not have the right to vote for his or her successor in an action taken by the board to make a provisional appointment pursuant to Section 5091."
The board on Wednesday also voted 4-1 to extend Superintendent Beth Polito's contract for another year.
Winikoff was the sole dissenting vote. Winikoff complimented Polito as "one of the most exceptionally talented" people she's ever worked with, she said she is worried about the direction of the district "in terms of academic excellence" and there may be conflicting agendas at play.
Winikoff also said she is concerned about Polito's ability to communicate with residents and employees who have concerns.