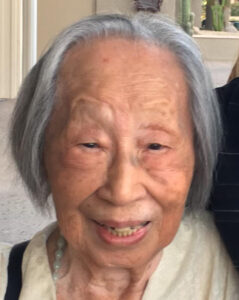 August 1, 1923 — May 29, 2023
Grace Yow Chuck, a longtime Palo Alto resident, has passed away peacefully on May 29th, 2023, at the age of 99. Grace Chuck was born August 1, 1923, in Locke City, California.
In 1957, Grace and her husband purchased their first home in Palo Alto, CA, where they raised their family of four children. She was a loving housewife and mother and was always there for her children when they needed her. She died May 29 in the comforts of her home in Palo Alto.
Grace Chuck is survived by her four children, Allen Chuck, Ronnie Chuck, Lyndsay Chuck Yuska and her husband, Sam, and Tamara Burton and her husband, Mark; her remaining sibling, Eli Leong; six grandchildren Jolie, Scott, Brad, Alyssa, Bryan and Cory; and three
great grandchildren Dimitri, Dominic and Grayson. She was preceded in death by her husband of 59 years, Walter Chuck.
A private family service will be held.