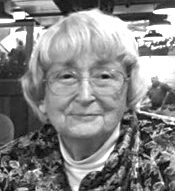 July 26, 1932 – May 27, 2023
Much loved Patricia Anne Hathaway Targgart, born July 26, 1932, died at home in Atherton, CA with family in attendance on May 27, 2023. Born 6th of 10 children to Oral Clyde Hathaway & Grace Mabel Miller Hathaway, and raised in Grantsville, West Virginia, Patrica graduated from West Virginia University with a Bachelor of Science. She began her career as a Cytotechnologist at St. Joseph's hospital in Parkersburg, WV, continued at San Francisco General Hospital in 1959, where she met Dr. William H Targgart (Hudd). They married in September 1960 in Vienna, WV.
For the majority of their almost 63 years of marriage, Patricia was a full-time mother with a strong commitment to serving her community. She was involved in multiple programs of the PTAs of Selby Lane Elementary, Kennedy Jr High, Bethany Lutheran School, Menlo-Atherton High School, and was instrumental in the distribution of the 17th district of the CA PTA Seventeena magazine (10 yrs); coordinated delivery of Thanksgiving and Christmas food boxes to families in need (10+yrs); hosted five year-long exchange students with AFS International/ Intercultural (15 yrs); fostered for the Feral Cat Network; and managed and delivered hundreds of birthday cakes & balloons to students on campus for the Stanford Parents' Club, often hailed with an enthusiastic greeting of "Oooh, here comes the Cake Lady!" (15 yrs).
As a dedicated member of the Menlo Park Presbyterian Church community for 53 years you could find Patricia participating in weekly church services, Bible studies, covenant groups, plus she was an exceptional "Steven's Minister", caring for others through her gift of listening.
She is survived by sisters Martha Ransom and Judy Gaunt; husband Hudd; four children – Carol Lee Woodstock, Laura Targgart, Michael Targgart, Melissa Targgart; grandchild Tuck Woodstock; as well as numerous nieces, nephews, and in-laws.
Patricia's memorial service will be held on Monday June 12th, 11:00am at Menlo Church, 950 Santa Cruz Ave, Menlo Park with reception to follow. All are welcome to attend and share in celebration of Pat's life.