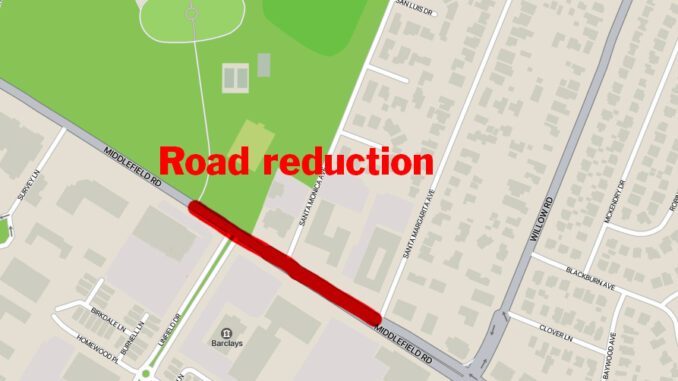 Published May 4, 2023
By Emily Mibach
Daily Post Staff Writer
Menlo Park officials are taking a new approach when it comes to reducing traffic lanes on streets. Instead of holding public hearings before the work is done, the city plans to reduce a quarter-mile stretch of Middlefield Road as early as next week and then, in six months, ask council members if they want to make it permanent.
The lane reduction will be from St. Patricks Seminary to the block before Willow Road – Santa Margarita Avenue. It could occur as soon as next week.
Only this stretch of road is being reduced because CalWater just replaced a water main that required repaving along that area, according to Assistant Public Works Director Hugh Louch.
The change could be temporary, as the new lanes are only going to be painted on. Louch said the city will be keeping close tabs on how traffic goes through the area.
In six months or so, Louchs team will go before the City Council to hear whether the changes ought to be made permanent, alter the changes or go back to the way the lanes were.
The road will go from two travel lanes on either side to one travel lane and a middle turn lane.
The goal behind the project is to improve safety for pedestrians to give them more certainty where the cars they are walking near will go, explained City Manager Justin Murphy during the City Council meeting on Tuesday, where the project was announced.
There is no set date as to when the new lanes will be painted, but it is set to occur next month, according to Louch.
It is possible the lane reductions could be expanded on Middlefield, as the city is planning to repave the road from the city limit with Palo Alto to Ravenswood Avenue, Louch said.