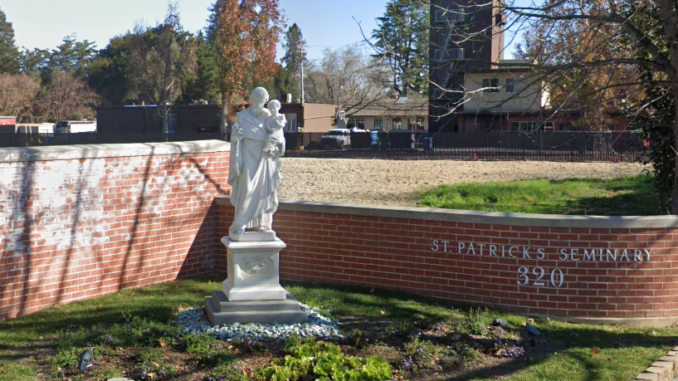 BY EMILY MIBACH
Daily Post Staff Writer
A man is accused of setting a fire at the base of a statue at the entrance of St. Patrick's Seminary in Menlo Park, authorities said today (April 10).
Roberto Vatical, 39 and a local transient, was spotted by a Priest at St. Patrick's at 320 Middlefield Road on Saturday around 10:30 p.m. after he had put a Duraflame log at the base of the St. Joseph statue and set it on fire, said District Attorney Steve Wagstaffe.
Vatical also put clear tape on the statute's neck and taped a balloon to its hand, the DA said. The Mary statue had broken eggs on its face and pieces of bread and tomatoes around its base.
The seminarian had spotted the flames and rushed to put the fire out, causing Vatical to run away, Wagstaffe said.
Police ultimately arrested Vatical at the bus stop on Willow Road near the VA Hospital, the DA said. Police also found that Vatical had bought the items at a nearby Safeway.
The fire caused about $300 in damage, the DA said.
Vatical was charged today (April 10) with vandalism of a religious artifact, a felony and misdemeanor arson. He could face up to three years in prison if found guilty of the felony, Wagstaffe said.
Menlo Park Police said there was another vandalism to the statues earlier in the day. They recommended the DA's office charge Vatical for the earlier vandalism, said police spokeswoman Nicole Acker. However, there were no witnesses to the incident, making it difficult for the DA's office to tie Vaticalto it, Wagstaffe said.
Vatical is in jail in lieu of $20,000 and will be back in court today so he can be assigned an attorney and undergo a mental health screening.
ᐧ