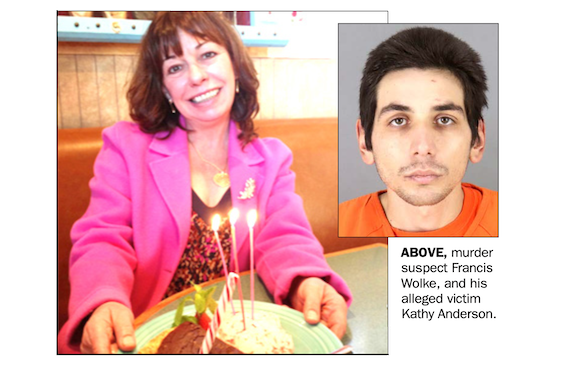 This story originally appeared in the Thursday morning, March 9, edition of the Daily Post. If you want to read local news stories first, pick up the Post in the mornings at 1,000 Mid-Peninsula locations.
BY EMILY MIBACH
Daily Post Staff Writer
A San Mateo County jury did not buy that Francis Wolke was insane when he killed former Atherton arborist Kathleen Anderson in her Menlo Park home.
Wolke, who told investigators that he was following instructions to join the 1% of people who kill and consume "protein" from other humans to achieve eternal youth and become rich, was found guilty of first-degree murder.
He will be sentenced to 26 years to life in prison on April 5. This means he could be eligible for parole hearings in 26 years but could end up spending the rest of his life in prison.
The jury had found Wolke, 30, guilty of the first-degree murder of Anderson by stabbing her in the eye and nearly decapitating her. The trial continued this week so the jury could determine if Wolke was sane at the time of the crime. He had pleaded not guilty by reason of insanity.
The jury's decision came a few hours after the two sides presented their closing arguments in the case.
Dr. David Berke, a court-appointed psychologist, testified on Monday that Wolke's thoughts about cannibalism were communicated to him through auditory hallucinations.
Previously, Wolke's attorney Connie O'Brien said in court that Wolke had said he needed to return to California from Cincinnati, Ohio in early December 2018 in order to join the 1% who consume human flesh.
Wolke was born in Cincinnati, Ohio. He is the oldest of eight children. He was mostly homeschooled growing up, attending public high school only for a few years in high school. After graduating high school, Wolke attended the University of Cincinnati to major in chemistry but failed out, his attorney said. So in 2015, Wolke decided to try getting his fortune in Silicon Valley, where he was unable to keep a job and his mental health problems escalated.
On Dec. 12, 2018, Wolke entered Anderson's Valparaiso Avenue home and brutally killed her, dragging her from one part of the home into its downstairs basement, which is where she was found by police.
Wolke was found in Anderson's home by her former tenant, Daniel Baggett, who decided to check on Anderson after not hearing back from her earlier that day. Wolke had blood on his clothes and told Baggett he had killed Anderson. Baggett held Wolke at knifepoint until police arrived.
Anderson, 62, was the town of Atherton's arborist for 22 years. She was the widow of Andy Anderson, who co-owned Dahl Plumbing on Alma Street in Palo Alto. He died in 2007. Prior to his death, they were married for about 30 years. They regularly hosted holiday parties and traveled.
Anderson was from Decater, Ill., and came to California in the 1980s to go to school. She was known as a great cook — specializing in down-home midwestern side dishes. She was also known for her green thumb, with her home having had a beautiful indoor sunroom filled with plants, according to her obituary.