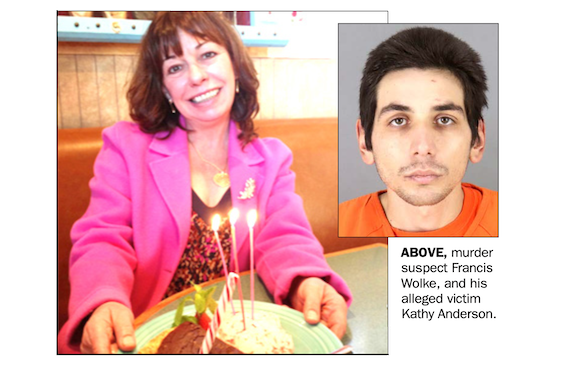 BY EMILY MIBACH
Daily Post Staff Writer
Francis Wolke, the man accused of killing former Atherton arborist Kathy Anderson, had returned to California just days before Anderson's murder, saying he heard voices telling him to return to the state to "join the 1%," his attorney, Connie O'Brien said during opening arguments at Wolke's trial Tuesday.
However, the 1% that Wolke said he wanted to join was not the elite rich, but what Wolke described to his attorney as the 1% of people who "kill and consume human flesh."
Wolke, who suffers from schizophrenia, is accused of brutally murdering Anderson, 62, in her Valparaiso Avenue home in Menlo Park on Dec. 12, 2018.
Wolke has pleaded innocent by reason of insanity. Right now, the jury is only determining whether or not Wolke is guilty of Anderson's murder. O'Brien contends that Wolke did not act with the intent needed in the law to find him guilty of murder. It is up to the jury to decide whether Wolke acted with the "mental state that is required" to commit such a heinous act, O'Brien said.
O'Brien's opening statement also shed some light about Wolke, 30, who was seated with his attorneys in a black suit and occasionally hunched his shoulders during testimony.
Wolke was born in Cincinnati, Ohio. He is the oldest of eight children. Wolke's mother, Laura Wolke, will testify as to what her oldest son was like growing up and as he got older, his behavior was "increasingly hard to understand," according to O'Brien.
He wanted to 'revolutionize education'
Wolke was mostly homeschooled growing up, attending public school only for a few years in high school, said O'Brien. After graduating high school, Wolke attended the University of Cincinnati to major in chemistry but failed out, his attorney said.
So Wolke in 2015 decided to try getting his fortune in Silicon Valley, where he was unable to keep a job and his mental health problems escalated. He became obsessed with a program that he thought would "revolutionize education," O'Brien said. He was homeless, couch surfing or living on the streets looking for a place to work on his program.
He also stayed on what O'Brien described as open balconies on the Stanford campus that people who do not live on campus or attend the university, can get into. During this time, he began using meth in order to stay focused on his program, his attorney said.
Wolke was admitted to Bay Area hospitals four times between March 2015 and December 2017 for various mental health issues, which sometimes resulted in self-mutilation. His family became aware of his problems in California and brought him home to Ohio, where he stayed for a year as his family tried to get him help. But Wolke deteriorated instead and followed the voices he heard to go first to Chicago and then back to California in December 2018, returning to the Bay Area shortly before Dec. 12, 2018.
Stayed on a balcony at Stanford
On the night of Dec. 12, 2018, Wolke left the Stanford campus, where he was staying on a balcony, and began walking, O'Brien said, which led him to Anderson's home.
Prosecutor Tricia Povah said during her opening statement that Anderson was brutally murdered. She was stabbed through the eye with a pen, which penetrated her brain, Povah said. When police found Anderson's body in the basement, covered with bedding from around the house, her head was almost completely severed from her body, detached from her spine, Povah said while showing the jury gruesome images of how Anderson's body was found.
Povah also said that Menlo Park police investigators were unable to find any connection between Wolke and Anderson.
Many of Povah's witnesses will be from law enforcement. They will discuss her cause of death, DNA evidence, and how she suffered and died. It is unclear exactly how she died, if it was through the stabbing of both of her eyes, or the attempted beheading, Povah said. Povah also pointed out that there were knives and other items strewn throughout the house, and all of the blood collected from around the house was Anderson's.
Yesterday, Povah put on the stand Daniel Baggett, a former tenant of Anderson's who had been evicted from her home months prior. The two had dated at one point, but had broken up years before her death. Baggett said he went over to her home several times a week for meals and to spend time with Anderson. Baggett went to check on Anderson on Dec. 12 after having a "bad feeling" about her. She had not returned his calls or texts, he said.
After finishing at a construction job in East Palo Alto, he stopped by her home, where he saw the garbage cans that Anderson always brought in by 10 a.m. were still outside. Items were uncharacteristically strewn about her home. It was Baggett who encountered Wolke in the home and held him at knifepoint for a few moments until police arrived. Baggett said that during that encounter, Wolke admitted he had killed Anderson. Baggett also said the defendant told him he was sick.
Baggett was one of six people who testified Tuesday, including Anderson's boss Valerie Gardner and multiple Menlo Park police officers. The trial will resume today at the Redwood City Courthouse before Judge Stephanie Garratt. Wolke remains in jail on a no-bail status.