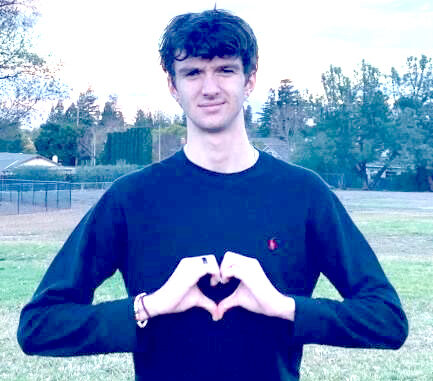 Correction: This story has been revised to say that Scheetz's car was T-boned by another driver, according to the victim's father.
By the Daily Post staff
A Palo Alto teenager who was an avid writer and college student has died in a car crash in Los Gatos, police said.
Tyler Scheetz, 19, was killed in a car crash on Blossom Hill Road on Sunday just before 10 a.m. on Jan. 8. Police are still investigating what happened. His dad, Kevin Scheetz, told the Post that his son's car was T-boned.
Scheetz was born in New Jersey and moved to Atherton in 2007, according to an obituary that his family posted online. He lived in Palo Alto when he died, according to the Santa Clara County Coroner.
Scheetz graduated in 2021 from St. Francis High School in Mountain View, where he played volleyball, soccer and cross country and met his girlfriend, Elly Low.
Scheetz was in his second year studying communications at Chapman University.
His family said he was an "avid creative writer" and was proud to have written an op-ed for Chapman's student newspaper urging readers to explore their identities and better understand themselves.
"Becoming in tune with your inner voice will give you unlimited potential to reach heights you never dreamed of reaching," Scheetz wrote. "It's never too late to start building this relationship."
Scheetz is survived by his mother Christine Augulis, his father Kevin Scheetz, his brother Tristan Scheetz, and his step-siblings Alex and Jack Murad.
Scheetz's funeral was on Saturday at St. Nicholas Church in Los Altos.
His family is asking people to donate to Chapman University so they can establish a scholarship in his name.