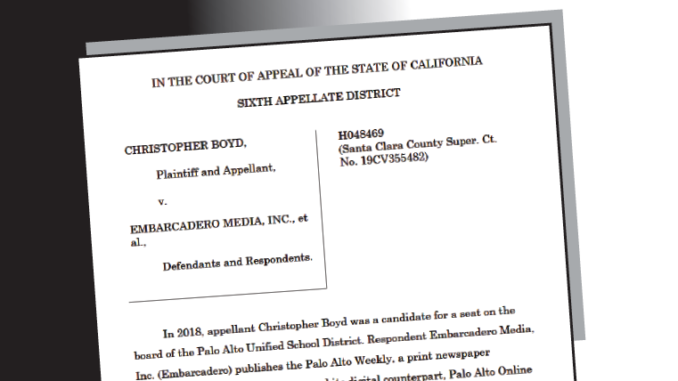 BY ELAINE GOODMAN
Daily Post Correspondent
A candidate in the 2018 race for Palo Alto Unified school board has lost his appeal in a case in which he accused a local newspaper of defamation.
Christopher Boyd sued Embarcadero Media, which publishes the Palo Alto Weekly, in September 2019, accusing the paper of defaming him, intentionally inflicting emotional distress, and causing mental anguish.
Boyd finished last among six candidates for two seats on the Palo Alto school board in the November 2018 election.
In July 2020, Santa Clara County Superior Court Judge Sunil Kulkarni granted Embarcadero Media's motion to throw out the case.
Kulkarni said that Boyd had not submitted evidence to support his claims in his opposition to Embarcadero Media's motion.
And last week, the Sixth District California Court of Appeal issued a decision upholding Kulkarni's order.
Paper can force him to pay its legal fees
The appellate court is allowing the publisher to recover legal fees of the appeal, along with attorney costs, from Boyd.
Boyd's case named Embarcadero Media and its founder, Bill Johnson, as defendants.
The case centered on stories published in the Palo Alto Weekly and Palo Alto Online in September and October 2018. The paper reported that Boyd was "falsely claiming" that Insted, an after-school science and technology program where Boyd was chief educator, was a tax-exempt 501(c)3 nonprofit organization.
Insted, also known as the Institute for Education Management, was not "listed in the California Secretary of State's registered business database as a corporation or LLC," the paper reported. In addition, the paper reported, a tax ID number that Boyd provided was for a nonprofit called the Institute for Environmental Management, whose mission was related to biofuel technology.

Excluded from debate
The paper also excluded Boyd from a school board candidate debate in September 2018. The Superior Court judge said that excluding someone from a debate could not be considered libel.
Boyd said in court documents that Insted was established as a project of the nonprofit Institute for Environmental Management, and therefore had a legal nonprofit status. IEM's articles of incorporation included a scientific and educational charter, he said.
"Defendants' false statements and implications publicly portrayed Mr. Boyd as a criminal," said Boyd, who represented himself in the case.
Embarcadero Media's motion to dismiss the case is what's known as an anti-SLAPP motion. The motion is used as a strategy to quickly quash a lawsuit that's aimed at silencing critics of a company or public official. SLAPP stands for Strategic Lawsuit Against Public Participation.
To successfully challenge a SLAPP case, the defendant must show that they're being sued over their right to free speech in connection with a public issue. Kulkarni said in his order that news reporting "has long been recognized as free speech activity."
Boyd could have kept the case alive if he had been able to show he had a good chance of proving his claims. In order to prove a defamation claim, he would have to show that the paper's statements were false and had been published with malice.But Boyd submitted no evidence, such as an affidavit or declaration, "either of the falsity of the paper's challenged statements or of respondents' actual malice," the appellate court wrote in its decision.