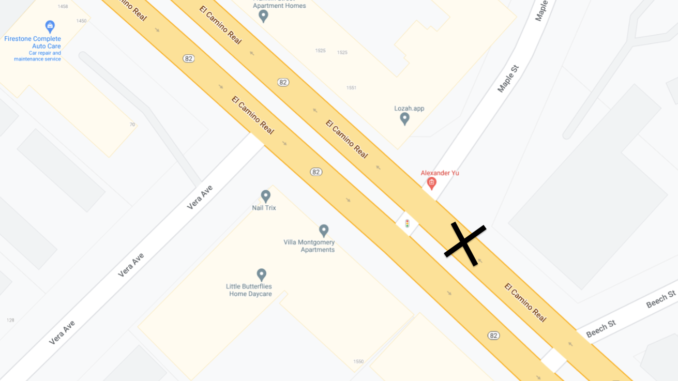 BY EMILY MIBACH
Daily Post Staff Writer
Five Redwood City police officers yesterday (Nov. 15) shot and killed a 36-year-old gunman who was involved in a domestic violence situation with a woman and three children in a car on El Camino Real, according to police.
Police dispatch received a 911 call around 3 p.m., but no one was speaking to the dispatcher. Instead, the dispatcher was able to hear what sounded like a child screaming in the background before the phone hung up, according to a statement from Capt. John Gunderson. When police dispatch called the phone number back, the call went immediately to voicemail.
Cell tower information indicated the phone was in the area of Maple Street and El Camino Real.
After police arrived, the man, a Redwood City resident who police have dealt with before, began using the children as human shields, according to Gunderson. As police tried to speak with the man, it appeared that he was going to shoot the woman or the children, who are ages 1, 4 and 10.
Five officers opened fire on the man, according to Police Chief Dan Mulholland.
A video circulating social media showed about 10 shots being fired and witnesses who were in the cars stopped at the stoplight fleeing from their cars as the shots occurred.
A loaded handgun was taken from the suspect and officers say they provided CPR while waiting for an ambulance. An ambulance took the man to a hospital where he was pronounced dead.
The woman fled with the 1- and 4-year-old children. The 10-year-old ran into a nearby business. The woman has been reunited with the children. She was taken to a hospital to treat minor injuries, but it was unclear how they had occurred, Mulholland said at a press briefing. The children were not hurt.
The officers involved in the shooting have been placed on paid administrative, which is routine. The department will do an investigation as to whether they followed department policy. The District Attorney's Office is also investigating the case to determine if the shooting was legal.