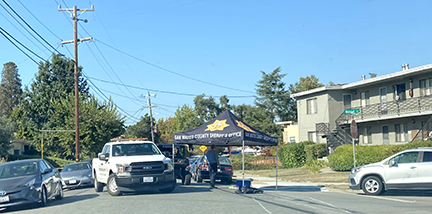 BY EMILY MIBACH
Daily Post Staff Writer
A man beheaded a woman with a sword yesterday on the street outside of her San Carlos apartment in front of others.
Sheriff's officers were flagged down by witnesses at Laurel Street and Magnolia Avenue around 11:50 a.m. saying that there was "an assault in progress," said Lt. Eamonn Allen.
When police responded to the 300 block of Laurel Street, the woman was "obviously deceased," Allen said.
However, the initial dispatch call to officers over the police radio said that the woman's head was cut off.
Allen would not confirm how the woman died only that she was "attacked with a stabbing instrument" by a man she knew.
Investigators were trying to find the murder weapon yesterday. The man was arrested a few blocks away from the crime.
However, the Sheriff's Office did not release the alleged killer's name yesterday, saying that he suffered from an undisclosed medical emergency and was in the hospital. His medical issue was not self-inflicted, Allen said.
The Sheriff's Office had come into contact with the suspect before, but Allen did not know if the victim had any restraining orders against her alleged killer.
The District Attorney's Office did not know when they would receive the case, but a deputy district attorney was out on the scene, as is the county's protocol when a murder happens.
Allen said deputies who responded to the scene were upset "based on the nature of the crime," and were receiving support. Witnesses have also been offered counseling, he said. No children were present when the woman died, Allen said.