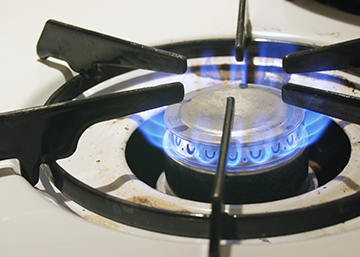 By the Daily Post staff
Los Altos City Council will decide tonight (Sept. 6) how far the city should go in banning natural gas heaters, stoves and other appliances to stop climate change.
Previously, the council's stance was that existing gas appliances could stay as long as a homeowner didn't remodel their entire home. But that could be changing.
Council's Environmental Commission is calling for the approval the "Bay Area Model Reach Code," a template of new environmental laws that is intended to stop climate change.
Under Strategy 2, "Facilitate Building Decarbonization," it would require the replacement of gas appliances with electric ones before a house could be sold.
Such a law would make homes more expensive, and real estate transactions more complicated if a home wasn't all electric.
The proposals before council also say that homeowners must replace broken appliances — including furnaces, air conditioning, gas ranges, ovens and water heaters — with electric ones.
Anyone caught using gas would face fines. The Environmental Commission estimates the city will collect $500,000 in such fines in the first year.
The commission did an admittedly unscientific survey and found that only 37.7% of respondents (202 people) favored the new Reach Codes. Another 35.2% (191) said they were against the reach codes. About a fifth of respondents — 22.3% or 121 people — wanted the current laws to continue. And just 19.5% favored a stricter set of laws than proposed by the environmental commission.
The survey asked for written responses from the public, and here are a few. No names were provided by the city.
• "Government should not tell me what kind of stove I must have."
• "China is opening as many coal plants each year as are still running in the US. Any tiny decrease in CO2 emission here is swamped by their output. America is for freedom, let people have a choice."
• "Currently, our electric infrastructure can't handle a significant increase in demand, as a result of eliminating gas appliances. Only a few years ago, we had rolling blackouts…and yet, these laws will make that issue worse? Doesn't make sense."
• "Love the idea of requiring all electric appliances of all types. Fully support the environmental commission's recommendations!
• "If we don't do something to save the planet, who will?"
• "Oh my goodness. I read the introduction at the top several times and I'm still not completely sure what I voted for in #4. That was really confusing. It'd be nice if there were a summary under each of the four options so I don't have to scroll up to keep checking for the description. Also it'd be helpful if they were listed in order of rules restrictiveness (least to most restrictive or vice versa)."
• "What is the plan for recycling the carcinogenic materials (selenium, cadmium telluride, gallium arsenide and lead) which are contained in solar cells when the cells reach their end of life? If these cells are sent to a land fill, they will contaminate the soil and ground water. No solar cell supplier has been able to develop a successful recycling program after 15 years of efforts."
• "We need balanced, common sense Green policies, not these draconian unbalanced (Over) Reach Codes that defy common sense. To require people to switch from gas to electric when buying a new appliance is absurd and unjust."
• "Stop pushing more restrictions on people. If electric appliances were more economical, you wouldn't need to pass ordinances to make people buy them. Free market principles work best. Take an Econ 101 course! And quit drinking the SVCE (Silicon Valley Clean Energy) Koolaid!"
• "Los Altos should get with the program. The temperature rise of the climate is changing rapidly for the worst. We need to do our part."
• "As an avid cook, I wholeheartedly DO NOT want the city to dictate what type of stove I can use. Purchasing a home without a gas stove, and no ability to add one, would be a deal breaker for me. We would not purchase a home in Los Altos with these limitations.