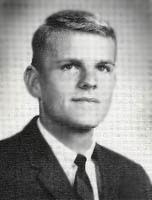 1946 – 2022
Geoffrey James Kerber, loving husband of Ann and father of two sons, Greg and Grant, passed away in Chico, California surrounded by his loved ones on Memorial Day Weekend, May 29, 2022 after a battle with cancer caused by Agent Orange from his service in Vietnam. He was 75.
Geoff was born in 1946 in Reading, Pennsylvania to George and Josephine Kerber. He grew up in Palo Alto, California, where he excelled at sports from football, basketball and tennis at Jordan Middle School to championship tennis and basketball teams at Palo Alto High School. While at Foothill College in Los Altos Hills, Geoff was the California State Doubles Champion in tennis. It was also while attending Foothill that Geoff met Ann, then a student at Los Altos High and the love of his life.
Geoff was drafted into Vietnam and served his country as a Sergeant in the U.S. Army, 60th Infantry, 9th Division. As a combat soldier, Geoff exemplified courage and leadership. He saved many lives and was highly decorated, earning two Bronze Stars with Valor, an Army Commendation Medal with Valor and several Air Medals, among others. Geoff agonized over the buddies he lost in Vietnam. After his return home, both he and Ann became outspoken advocates for Peace.
Following his service in Vietnam, Geoff and Ann were married at St. Ann's Chapel in Palo Alto and remained together 51 years until his passing. Geoff and Ann have two wonderful children, Greg and Grant, both of whom love them very much. When Greg was two, Geoff and Ann moved the family to Paradise, California to raise their children among the pine trees, canyons and scenic vistas. They found great happiness there.
Geoff loved his family, reading, and spending time in nature. He loved fishing, cycling, skiing, birdwatching, hiking and camping with his family. Family trips to Ashland, Oregon to see Shakespeare plays were an annual event. Geoff will also be remembered for his love of the Giants, A's, Warriors and 49ers. Geoff 's quick wit and uproarious sense of humor could light up a room. His charismatic presence will be missed.
Geoff is survived by his wife of 51 years, Ann Kerber, his two sons, Greg and Grant, his brother, Gregory W. Kerber, and his brother-in-law, James C. Keyes.
A memorial service will be announced at a later date. In lieu of flowers, the family asks that donations be made to Stanford Medical Center Oncology Research or Doctors Without Borders.