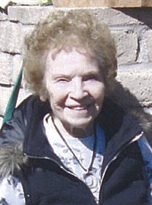 Resident of Los Altos
Helen Cassidy, longtime resident of Los Altos, has passed away peacefully at the age of 96. Those who were lucky enough to know her will remember her sweet demeanor often coupled with an acerbic wit. She was known for strolling the streets of downtown Los Altos pushing a pram with her beloved Shih Tzu, stopping to converse with shopkeepers and the many friends she had developed in her 62 years there.
Helen was born in 1925 in Parco, Wyoming, a small town close to Sinclair, known for its oil. Fiercely independent, at the age of 17 she boarded a train and moved to Denver, Colorado to live and work. To help the WWII war effort, she moved to Seattle, where she worked as a Riveter (like Rosie!) in an airplane factory. It was then she met Howard, a tall, handsome former Golden Gloves boxer who was in the Navy, and they married in 1945.
Howard was a Redwood City native, so after the war they moved back to Howard's hometown, during which time Helen worked at a Title Company, while Howard worked as a Sale Representative for a liquor distributor. In 1955, they gave birth to their daughter, Colleen. In 1960, they moved to Los Altos.
Helen had a passion for bowling. For 26 years she managed Fiesta Lanes, in Palo Alto, during which time she won many team and individual bowling championships, as well as being a bowling instructor. She once bowled in near perfect game of 299. Her other hobbies included collecting dolls, music and dancing, stitchery, and latch hook rugs. She had a great love of animals, and in addition to her beloved pets, she was generous sponsoring numerous Animal Rescue organizations.
Helen was preceded in her death by Howard, her husband, and is survived by her daughter, Colleen, who lovingly cared for her during the last 2 years of her life. She will be dearly missed.
Anyone who wishes to honor Helen's memory can donate to Muttsville Senior Dog Rescue – P.O. Box 410207 S.F. CA. 94141