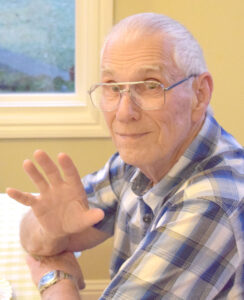 August 10, 1929 – June 19, 2022
In celebration of the life of Freeman Herbert Bradford, August 10, 1929-June 19, 2022:
During WWII, Freeman's family lived in Washington D.C. where he met his future wife, Patricia. They were both 13 years old living in the same building and became friends. The families soon moved apart, but Freeman was destined to see Pat again.
After attending Lafayette College in Easton, PA, Freeman was called up to serve in the Korean War, with the rank of 2nd Lieutenant, Infantry U.S. Army. Before he went off to war, he was stationed in Fort Collin's Colorado. He knew that his friend, Patsy, from D.C. lived nearby in Denver and decided to look her up (in the phone book). After visiting Pat in Colorado, the pair became close. She sent letters and care packages to Korea. Upon his return, they courted and married on September 5, 1954.
The family resided in Cedar Rapids Iowa where Freeman worked for Collins Radio. They adopted two sons Curtis and Christopher. They moved from Iowa to Texas and finally to Palo Alto, CA in 1970. Freeman left Collins to pursue technical sales in the Silicon Valley. In the late 1980's and early 1990's he focused on technical writing as a contractor for many name-brand technology companies. Freeman retired in 2006 at the age of 76, but he never stopped learning. He read voraciously and constantly worked to improve his skill at his lifelong hobby of photography.
Freeman created an online "scrapbook" with memories and pictures of his time in the Korean War.  This website got noticed by members of the Outpost Harry Survivors Association, and Freeman joined the group.  He then went on to create and maintain the group's official website: http://www.ophsa.org/index.htm.  Freeman traveled to South Korea with the Outpost Harry group accompanied by his son Curtis in 2012, where the entire group was honored by the South Korean government during the 60th Anniversary of the War Ceremony.  
In retirement, Freeman took up the hobby of African Drumming. He credited Ma Boukaka of The Congo and Hugh Humphery as the two most influential drumming teachers he'd had.  The link below is a website created by Freeman with some memories and pictures of his time drumming http://www.btainc.com/index.htm. 
As an avid photographer, videographer and website creator, Freeman also volunteered his time to Avenidas Village in Palo Alto. Freeman photographed and created videos of many of the events sponsored by Avenidas.
Freeman is preceded in death by his son Chris (2000), wife of 57 years Patricia Larned Bradford (2010) and his sister Ruth Bradford Ohlsen (2022) and Ruth's husband Bill (2021), and survived by his son Curtis, and his grandchildren Jenny, Emily and Olivia.
A memorial service will be held to celebrate the life of Freeman Bradford
St. Mark's Episcopal Church: 600 Colorado Avenue, Palo Alto, CA 94306.
All Souls Memorial Garden at 1:30pm Sunday, July 17, 2022