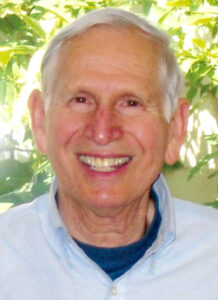 May 12, 1939 – May 28, 2022
Richard passed peacefully at age 83 surrounded by loved ones at his family home in Palo Alto. His parents John and Lucy met in San Francisco and raised their family in Palo Alto. They taught their children, "primero Dios," that is, God first.
Richard attended Serra High School and St. Mary's College in Moraga. In college, he was in a singing group called "The Strangers" who recorded hits and opened concerts for singers Connie Francis, B.B. King, and The Diamonds.
Richard served in the Peace Corps in the Dominican Republic from 1962 to 1964 where he met his future wife, Edda Tavarez. They settled in Palo Alto and had two sons, Richard, Jr. and John Edward. They were happily married for 32 years until her untimely death in 1998.
Over the years, Richard was Director of Foster Parents Plan for the country of Ecuador and Code Compliance Officer for the City of Palo Alto. He loved volunteering for the St. Vincent de Paul Society, the Palo Alto Farmers Market, Hidden Villa Farm, and the Palo Alto homeless center.
Richard was known for his kindness, spirituality, and sense of fun and adventure. Before he was married, he hitch-hiked across the United States. He loved nature and for his birthday, he'd hike from Palo Alto to Half Moon Bay. He also biked to Yosemite and Santa Cruz on his three-speed bike. He was a legend in his time.
Richard is predeceased by his parents, brother Johnny, wife Edda, and son Richard, Jr. He is survived by his son John Edward and sister L. Susan Cabrera. Family and friends are welcome to attend his memorial service followed by a reception on Friday, July 1, 2022 at Oak Hill Memorial Park, 300 Curtner Avenue, San Jose. 1:00 Visitation, 2:00 Memorial. In lieu of flowers, donations may be made in Richard's memory to St. Vincent de Paul Society at St. Francis of Assisi Church, 1425 Bay Road, East Palo Alto, CA 94303.