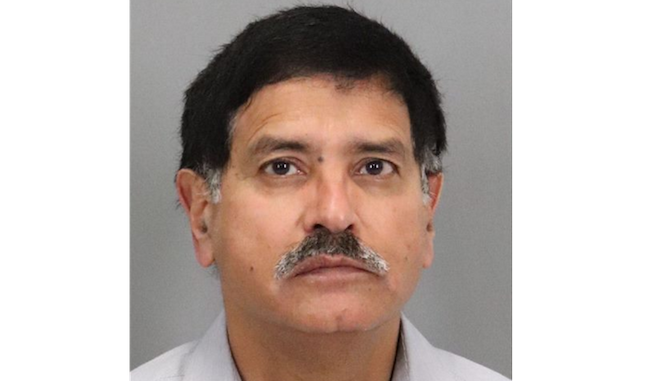 By the Daily Post staff
Palo Alto police today (June 9) said they were looking for additional victims of a local doctor who was arrested in December on suspicion of sex crimes involving girls under age 14.
Naeem Ulislam Hashmi, 61, was arrested at his home in Palo Alto in December on an arrest warrant alleging he had committed lewd acts on two girls under age 14, police said.

Dr. Hashmi works at Crescent Medical Center in San Jose, police said. WebMD said Crescent Medical Center, near Good Samaritan Hospital at Highway 85 and Bascom Road, is a group practice with two physicians specializing in emergency medicine and internal medicine.
The case began when an alleged victim, who is now an adult, reported that she had been sexually assaulted on multiple occasions by the suspect when she was 12 and 13, police said. The investigation also revealed the suspect had assaulted another girl who was friends with the first victim, police said.

The victims from this case were not patients of his, police said. Instead, he knew them through community and family connections. One of the incidents that resulted in charges was for an assault the suspect committed on one of the underage victims while she was volunteering at his medical office, police said.

After the suspect's arrest, detectives continued the investigation and were able to locate a third victim from 2016.

That victim, a woman who was in her 40s at the time of the assault, was employed by the suspect, police said.

This victim reported the suspect had sexually assaulted her while they were both working in the suspect's medical office in San Jose. That investigation resulted in the Santa Clara County District Attorney's Office adding an additional felony charge against Dr. Hashmi of sexual penetration by force.

Police said they believe it is possible that there are additional victims who may not have previously come forward. They asking that any additional victims come forward.

Anyone with information about these incidents or this suspect is asked to call police at (650) 329-2413. Anonymous tips can be e-mailed to paloalto@tipnow.org or sent via text message or voice mail to (650) 383-8984.