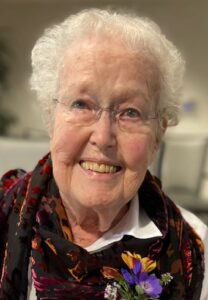 November 17, 1931 – February 20, 2022
Frances Alice Young died peacefully at age 90 on February 20, 2022, at Stanford Hospital.
Frances was born in Dodge City, Kansas, on November 17, 1931, to Sarah Alice and Franklyn Arthur Baird. Her father worked for the Atchison, Topeka and Santa Fe Railway; listening to his tales of "working the rails" during her childhood inspired in her a lifelong love of trains and rail travel.
The youngest by far of four children – her siblings Viola, Jim and Ken were 14, 16 and 18 years older, respectively – Frances essentially grew up an only child. Her brothers left for college when she was a toddler and her sister married soon after. Although she said they loved to tease her, she idolized her older siblings and always eagerly anticipated their holiday visits home.
Frances graduated from Dodge City High School in 1949 – the tallest girl in her class, she would often ruefully recall. She attended Kansas University until she met James Young, a soldier stationed at Fort Bliss in El Paso, Texas. She loved to laugh about their first date, where they saw a professional wrestling match featuring the famous "Gorgeous George." Their courtship blossomed, and they were married at a friend's home in El Paso on July 11, 1952, when she was 21 years old.
Frances was a devoted and loving mother to her three children. Margaret was born in 1954 in Rockford, Illinois, where they lived while Jim studied for his Ph.D. at the University of Illinois in Champaign-Urbana. After he graduated, they moved to Las Cruces, New Mexico, where Sarah was born in 1963. The family eventually settled in Palo Alto, California, when Jim began working at Stanford Research International (SRI), welcoming son David in 1965.
Frances worked for several years as church secretary at Covenant Presbyterian Church in Palo Alto, a job she took partly because it was close to the family home on Cowper Street, which allowed her to be home at lunch and after school while Sarah and David were in elementary school. Later she taught at Ohlone Kids Club, a Palo Alto Community Child Care afterschool program.. She also cared for her two grandchildren, Mara and Matthew, while their mother Margaret worked full time at Stanford University. Though she loved every one of her jobs, she found her greatest satisfaction in working with children and helping to raise Mara and Matthew.
An active member of First Presbyterian Church in Palo Alto since 1965, Frances worked as a deacon, sang in the choir, and volunteered in the church office. She cherished her many friends there, often describing the church community as family. She attended services regularly until the start of the coronavirus pandemic, after which she continued to attend virtually with the assistance of the staff at the Palo Alto Commons, where she and Jim had moved in 2015.
Frances made many new friends at the Commons, endearing herself to fellow residents and staff alike. Despite the loss of Jim in 2018 and her many health challenges over the years, she remained positive, sharp and fully engaged with life and with those around her until her final weeks, when she entered the hospital. Her strength of character was matched only by her kindness and compassion. Frances touched the lives of everyone she met, and she will be greatly missed.
In addition to Jim, Frances was preceded in death by her parents Sarah and Franklyn Baird, her brothers James and Kenneth, her sister Viola, and her daughter, Margaret. She is survived by her daughter Sarah Clementson (Dave); son David (Carolyn); granddaughter Mara Canchola (Jose); grandsons Matthew Montrose and Andrew Young, and great- granddaughters Alitzelle and Talia Canchola.
A Celebration of Life for Frances will be held Saturday, September 3 at 1:00 p.m. at First Presbyterian Church of Palo Alto, 1140 Cowper Street, Palo Alto, CA.