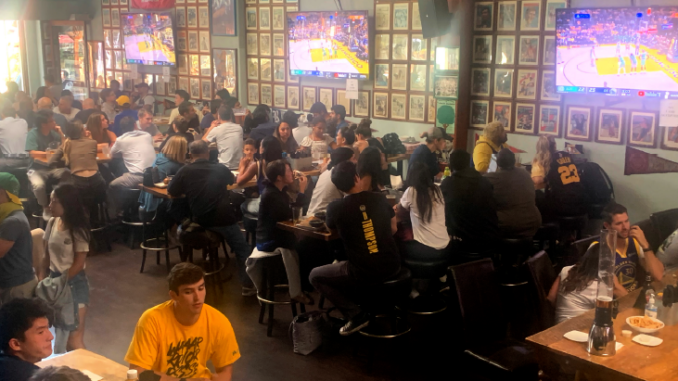 This story was first printed in Thursday's Daily Post. If you don't want to miss any local news, pick up the Post in the mornings at 1,000 Mid-Peninsula locations.
BY BRADEN CARTWRIGHT
Daily Post Staff Writer
The Old Pro sports bar is closing on June 19 after 20 years in downtown Palo Alto because rent, payroll and food have become more expensive, and tech employees aren't partying there anymore, owner Steve Sinchek said Wednesday.
The Old Pro is one of just a few places to catch a game around University Avenue, and the bar routinely gets a crowd in the evening, especially during Stanford games. And while fans have continued to show up, employees from tech companies have not.
Businesses such as Facebook and Palantir have relocated their offices, so their parties aren't happening anymore, Sincheck said.
"If we're not pumping at a good level, it's not going to work," Sinchek said. "At the end of the day, you can only charge so much for a burger."
Sinchek wouldn't say what the terms of his lease were, and his landlord, Roxy Rapp, didn't respond to requests for comment.
Sincheck said he negotiated "a number" to get out of his lease before it ends in November 2025.
Sinchek's brother, Jo Sinchek, commented on social media that The Old Pro would keep going if not for the owner of the building.
Sinchek said 25 employees at The Old Pro can transfer to his other restaurant, Local Union 271.
The bar was operating at half of its pre-pandemic revenue levels, and government aid has ran out, Sinchek said.
Another one bites the dust
The closure adds to a growing number of vacancies around University Avenue as businesses struggle to make their finances pencil out.
Other long standing bars in the area have also been closing their doors for good. The Oasis Beer Garden at 241 El Camino Real in Menlo Park, which was also a favorite for Stanford students, closed in March 2018.
Antonio's Nut House at 321 California Ave., another hangout spot for tech workers, closed in August 2020 with a final goodbye from Elon Musk.
Memories
While Sinchek's decision to close was based purely on money, it became emotional as tributes and fond memories poured in yesterday on social media."Sad to see," former Stanford quarterback Todd Husak said. "Lots of great memories made and amazing games watched there over the years."
Jacque Neuwoehner Major said she and other nurses gathered at The Old Pro every other Sunday night after working three shifts in a row over the weekend.
"It's the end of an era," she said. "Thanks for the memories."
People remembered happy hours, birthday parties and meeting new friends there too.
"It's kind of like a wake, the stories you here," Sinchek said. "It puts a tear in your eyes, but it also makes you realize how much it meant to people."
Customers at The Old Pro witnessed three championships each by the Golden State Warriors and San Francisco Giants. When Stanford Football dominated under quarterback Andrew Luck, the team celebrated at Old Pro after their home games, Sincheck said.
The Old Pro opened in 1964 at the corner of El Camino Real and Page Mill Road. Sincheck purchased the business in 1994, and he moved to 541 Ramona St. in 2002.
The space is nearly 5,000 square feet, with a second level and a bar in the middle. It used to have a mechanical bull for people to ride in the corner.
The bar's last day, June 19, coincides with the Warriors potentially playing a game seven in the NBA Finals.