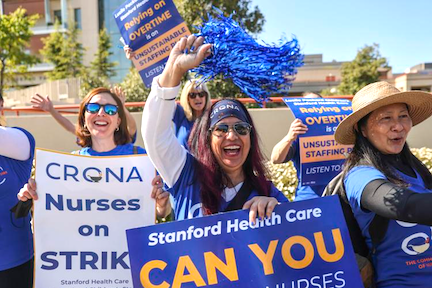 MONDAY, noon — Members of the nurses union, some of whom make $200,000 a year, have ratified the new contract and will return to work tomorrow (May 3).
Roughly 83% of the nearly 5,000 nurses represented by the Committee for the Recognition of Nursing Achievement voted to ratify the contracts, which cover nurses at both hospitals.
Stanford Health Care said in a statement Monday the new contracts support the two sides' "shared priorities" and will support nurses' "health, well-being and ongoing professional development."
"We look forward to welcoming our union-represented nurses back tomorrow, Tuesday, May 3," Stanford Health Care said in its statement. "We appreciate the incredible effort that our entire health care workforce put forward last week."
CRONA officials agreed Monday that both sides had shared goals, but suggested that they chose different ways to approach the negotiations.
"Sticking points really had to do with sort of a philosophical difference in how we approach things," CRONA Vice President Kathy Stormberg said Monday. "It wasn't so much that there was a specific issue, rather that it was a complete package of changes that we were working on."
"The final result that we were able to achieve is was rewarding in that we believe that the hospitals have realized that they need their nurses at the bedside," CRONA President Colleen Borges said.
CRONA officials had argued that Stanford Health Care and Packard Children's were not adequately reinvesting in staffing at either hospital after they received hundreds of millions in federal pandemic relief funding — Stanford Health Care's financial disclosure for the end of the 2021 fiscal year reported that revenue for the two hospitals grew 16% to a combined $8.3 billion.
SATURDAY — Nurses at Stanford Health Care and Lucille Packard Children's Hospital are voting this weekend on a new contract that will end their five-day-old strike.
The union, known as the Committee for Recognition of Nursing Achievement, said the proposed three-year contract would give members:
• 5% on April 1, 2022;
• 2% on Dec. 1, 2022;
• 5% on April 1, 2023; and
• 5% on April 1, 2024.
At the beginning of negotiations, the hospitals were offering 12% over three years while the nurses wanted 20%. The proposed contract calls for 17%.
The hospitals also guaranteed an additional week of pre-scheduled vacation for all nurses starting in 2024.
The union's membership still needs to vote through the weekend on whether to approve the agreement.
About 5,000 nurses went on strike Monday.
At the top of the pay scale, clinical nurses make about $200,000 per year. The proposed contract would increase their pay to $234,000 at the end of three years.