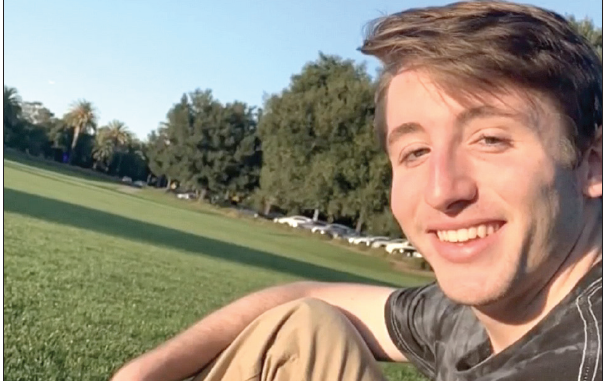 Eitan Weiner overdosed Jan. 17, 2020 at a Stanford fraternity house. Photo posted at WeRemember.com.
BY BRADEN CARTWRIGHT
Daily Post Staff Writer
"That could have been me … Maybe that should have been me."
That's what Los Altos resident Matthew Carpenter told police 11 months after he sold his best friend a batch of pills that killed him.
The statement came as Sgt. Joseph Piazza was interviewing Carpenter as part of the Santa Clara County Sheriff's investigation into the death of Eitan Weiner, who overdosed on fentanyl in a Stanford fraternity house on Jan. 17, 2020.
In Piazza's recorded interview, Carpenter admitted to having drugs mailed to Weiner. He was candid and regretful, detailing his relationship with Weiner, how he got the pills and the events before and after his friend's death.
The interview transcript was included in Piazza's police report, which was used to charge Carpenter with selling drugs.
Carpenter, 21, pleaded guilty to one felony on March 30, and he will be sentenced to two years of probation and 100 hours of community service.
But the episode isn't over. Weiner's parents — both Stanford employees — are suing Carpenter, the university and three of Weiner's fraternity brothers for their role in Weiner's death.
Carpenter told Sgt. Piazza that he was best friends with Weiner since kindergarten. Weiner would come on skiing trips with Carpenter's family, and they were part of a close-knit group in high school.
"We had one of the best friend groups, like as far as supporting each other and being overall close," Carpenter said. "We were really authentic."
Carpenter told Piazza that he and Weiner smoked weed, took molly at raves and sometimes did oxytocin painkillers together.
Buying on the dark web
Carpenter was in charge of buying the drugs. He said he could order them easily because he already traded using cryptocurrencies as payment. He downloaded Tor, a browser that can access the dark web anonymously.
"I would always just be online to get stuff myself," Carpenter said. "(Weiner) or other friends I knew would just say 'Hey while you're there, can you get me this.' I didn't gain anything from it. I was just trying to do them a favor."
Carpenter said he shopped on a website called Empire Market, where different vendors sold different drugs. Carpenter paid in Bitcoin, and the money was put into escrow until the package arrived.
He said his friends paid him back with cash or on Venmo, a mobile app.
Vendors shipped drugs with a return address that doesn't exist, Carpenter said. For a drug like acid, which looks like paper, the packaging would be light. Anything that smelled was vacuum-sealed.
Carpenter and Weiner graduated from Los Altos High School in 2018. Weiner went to Stanford and joined the Theta Delta Chi fraternity, and Carpenter went to Washington University in St. Louis, Mo.
They stayed close and hung out every time they were both back at their parents' houses, Carpenter said.
Rappers' drug use
Weiner was passionate about rap music, and he liked to take drugs and then go to a studio to make music, Carpenter said.
"That was his thing," he said.
Rappers like Juice WRLD, whose real name was Jarad Higgins, had an influence on Weiner, Carpenter said. Higgins died on Dec. 8, 2019, of an opioid overdose, and he often made songs about his drug use.
"These guys have such a big following and they kind of like gas up (Percocet) usage, and that's why (Weiner) got into it," Carpenter said.
Weiner was on a bender leading up to his death — he was taking Xanax, cocaine, and getting "mega drunk," Carpenter said.
Weiner asked Carpenter to buy him Percocets and have them shipped to the TDX fraternity house. Carpenter said he kept forgetting, and Weiner kept bugging him.
Eventually, Carpenter went on Empire Market to a seller named Polar Springs, who had 5,000 reviews that were almost all five stars. He said he paid about $100 in Bitcoin for five or 10 pills, and Weiner paid him back on Venmo.
The package of pills arrived at the TDX fraternity house on Wednesday, Jan. 15, 2020. The small, blue pills, with an "M" stamped on the front and "30" on the back, looked just like Percocets, according to Piazza.
Weiner sent Carpenter a picture of the box, and they talked on the phone along with a third friend that night.
"He was just slightly drunk, and you know, he's like, 'I love you bro.' And we're like, 'We love you too,'" Carpenter said. "And that was the last time I talked to him."
That same night, Weiner had a medical emergency while he was hanging out with his girlfriend, Klaubua Wichayda.
Wichayda told Piazza about that night in another recorded interview at the sheriff's office headquarters.
A weird mood
Wichayda told Piazza that she and Weiner were together in his room. She noticed Weiner appeared happier than usual, and he was complimenting her on her beauty.
She said his mood was nice, but also weird.
Wichayda noticed Weiner couldn't reach the clothes hanger in his closet. She grabbed a hanger from Weiner, and he stood there without moving.
"I feel really good," he said.
Weiner's pupils were small, his lips were pale and his voice was deep, Wichayda said. She asked him if he took drugs, and Weiner said no.
Wichayda called for Weiner's roommates, and the fraternity's resident advisor Timothy Michael called an ambulance.
Paramedics couldn't figure out what was wrong with Weiner. He told them he was fine, and he passed a walking test down the stairs.
His roommates didn't mention the pills in their room, and paramedics said he could sleep it off.
Wichayda, who said she wanted Weiner to go to the hospital, called her parents and asked for a later curfew so she could stay the night. She told Piazza that she and Weiner dated for about six months, and they were in love with each other. He never told her about his drug use except for smoking marijuana.
One of Weiner's roommates, Muhammad Khattak, later told police that Weiner could have reacted to handling fentanyl-laced pills without gloves.
The next day, Weiner went to a party with another roommate, Cole Dill-Desa, for about an hour in the evening, Dill-Desa told police.
They came back to their room around 8 p.m. and played some video games, and then Weiner said he going to the studio where he raps, Dill-Desa said.
Nobody saw Weiner for the rest of the night.
Janitor finds his body
On Friday at 7 a.m., Stanford janitor Maria Carranza was cleaning the TDX house. She tried to open the second-floor bathroom when she got there, but it was locked.
Carranza told police that she knocked and tried opening the door again and again while she cleaned other parts of the house, but nobody answered. She used a key to unlock the door at 10 a.m. and discovered Weiner's dead body.
Deputy sheriff Mark Evangelho investigated the scene. He said Weiner was slumped backwards on the toilet with his pants down, and his body was cold to the touch. His face was discolored, and a mucus-like substance was around his nose and mouth, Evanghelo said.
Evangelho said he found a rolled-up $5 bill next to Weiner's body used as a snorting straw, and a blue powder was lined up on top of a paper towel dispenser.
Dill-Desa pointed Evanghelo to a pill container in Weiner's dresser drawer. The color of the pills matched the powder in the bathroom, Evangelho said.
Reaction to his death
The fallout from Weiner's death was big at Stanford. Hundreds of people filled Memorial Church to celebrate his life, and he was remembered as being full of joy, wit and curiosity.
The university started sending out repeated warnings about fentanyl and updated its drug policy. TDX was banned from campus in March.
The criminal investigation took more than a year. Sgt. Piazza of the sheriff's office got a search warrant for Weiner's Venmo transaction history. With Weiner's parents' help, he reviewed Weiner's text messages on his Macbook. He wasn't able to get into Weiner's phone.
Piazza said texts and transactions between Weiner and Carpenter pointed his investigation in the right direction. He visited Carpenter at his parents' house off Los Altos Avenue on Dec. 1, 2020, when Carpenter was back from college for Thanksgiving break.
Piazza told Carpenter that he wasn't in trouble and that their conversation was confidential.
Carpenter said he wanted to be honest, and he admitted that he was responsible. He said he never meant for anything bad to happen to Weiner.
Carpenter said he deleted his dark web accounts and transactions after Weiner died, and he stopped doing drugs except for drinking beers with his parents. He said he tried not to think about what happened, because that's what Weiner would've wanted.
"He always told me like, don't be tripping," Carpenter said. "Cause in high school especially I always freaked out, like when it came to girls, whatever. And then he was kind of like this ocean of calm … I always told my parents that he inspired me to be a lot more secured and grounded."
Piazza completed his police report in February 2021 and turned the case over to the District Attorney.
Carpenter was charged with felony sale or transportation of a controlled substance. The court case went relatively quick, and he pleaded guilty on March 30.
Weiner's family sues
The civil case from Weiner's parents and sister was filed in December. They call out Weiner's roommates for misleading paramedics when he first overdosed, and Carpenter for selling the drugs.
Amir Weiner is an associate history professor, and Julia Erwin-Weiner is an associate vice president for medical center development. Eitan's sister, Ya'El Weiner graduated from Stanford in 2019.
A year before Weiner died, Stanford told TDX that it was losing its house at 675 Lomita Ave. because of long-standing concerns about members drinking alcohol. But the decision was taken back after the university found a technical flaw in how fraternities and sororities were scored.
Susie Brubaker-Cole, the vice provost of student affairs, apologized to TDX for causing them stress. "I am glad that this reversal of the original decision allows chapter members to turn their attention to other matters," she said.
She assured students that the university supports Greek life.
A survey by Stanford in 2019 said that 21% of students in Greek life reported using drugs other than alcohol and marijuana in the last year. Still, Stanford didn't distribute a warning from the District Attorney, which specifically called out the blue pills, the Weiners claim. Stanford "undercut, ignored and otherwise minimized the role of drug abuse on its campus," the Weiners said.
Settlement under discussion
The court case is paused until June 3 while the parties discuss a settlement. Stanford said it disagrees with many of the allegations from the Weiners and will defend itself against the lawsuit.
The scourge of fentanyl has only grown since Weiner's death. There were 29 fentanyl-related deaths in 2019, 90 deaths in 2020 and 135 deaths last year.
Fentanyl kills young adults more than anyone, but all ages and backgrounds are affected — including a 12-year-old girl who died in 2020 after snorting three-quarters of a pill.
Los Altos High School senior Lauren Brierly, 18, died at her home in Mountain View on April 1 from a potential fentanyl overdose. Police are still investigating how she died.